---
Crochet EASY red POPPY Remembrance day applique
2021-08-11
You know me - and it is no secret, one of my favorite things to make are crochet flowers. Not only are they beautiful and delicate and just full of wonderful color and scent, but they also hold special meaning for different people and occasions. This pattern works up fast and it's crocheted in one piece without any sewing needed, perfect if you have to make lots of poppies.
I'm thrilled to share a gorgeous free crochet poppy pattern with you.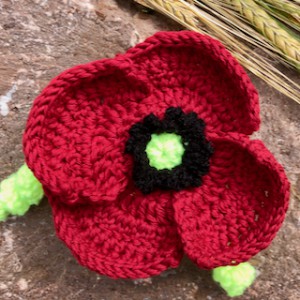 The pattern is available here below for free. It comes with a video guide as well.
VIDEO TUTORIAL
You can find the step-by-step video tutorials below which will help you along if you prefer to watch video instruction rather than using a written pattern.
Don't forget to subscribe if you like me videos, it's FREE!
A huge thanks to everyone who want to support my blog and download PDF paid pattern. Thank you very much, I really appreciate it and it helps me create more new video tutorials and patterns for you. Love you!
Let's start or PIN this idea to your Pinterest boards for later.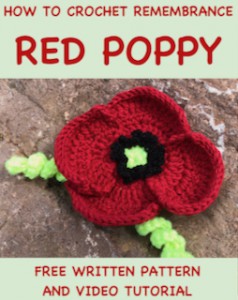 You may would like to try this Puff Flower:
I used also this crochet flower as a hair tie as well:
Crochet Red Poppy Flower Directions
This lovely Poppy Flower is easy and quick to make.
The pattern uses only basic crochet stitches - single crochets and half double crochets a double crochets.
This poppy is worked from the centre outwards. First you make the centre circle, followed by each petals.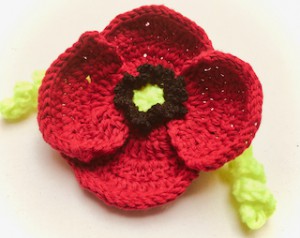 Yarn: You can use any yarn you like - for this project is great to use up scrap yarns!

Small amounts of any worsted weight yarn – I used up Drops Cotton Light for this pattern.
Drops Cotton Light - white yarn - 50% cotton, 50% polyester, 50g/1.8oz, 105m/114.83yds

Color A: yellow or green
Color B: black or dark violet or dark blue
Color C: red or white or light violet or so
I made both red poppy, but this poppy flower crochet pattern can be worked up in any color you like!

For this pattern you will need 3.0 mm crochet hook.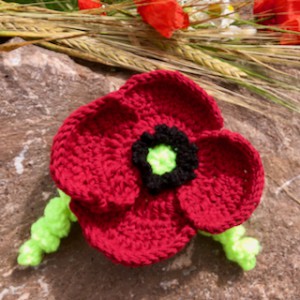 Difficulty Level: Level 1 – Easy, for beginners
This pattern is made for beginners - only a basic skill level is required to make it. If you don't understand any of my instructions, don't worry I am here for you - enter the comments at the end of this post.
US crochet term:
SlSt – slip stitch
CH/s – chain/s
DC - double crochet
HDC - half double crochet
SC - single crochet
SK - skip
T - turn
ST/s - stitch(es)
REP - repeat
Create your own Poppy and for remembrance day. I think it is so important that we pay our respects to the service men and women of past, present and future. Each November, poppies bloom on the lapels and collars of millions of people around the world to honor our fallen soldiers. Please feel free to use this tutorial to make poppies to wear for yourself or to sell to make money for the charity.
You may choose to make a single red crocheted Poppy to wear as a Remembrance pin or add them to a wreath. This pattern is so easy to make, you may want to make one for all your friends and family to wear for Remembrance Day (Veteran's Day).

Although there are many patterns out there, this one seemed a little more realistic.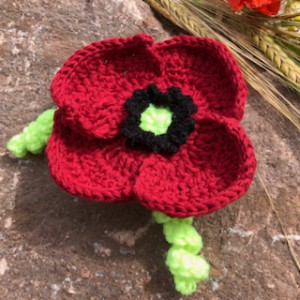 RED POPPY FLOWER REMEMBRANCE DAY pattern
Step 1: Centre circle with Stamens
This part of the flower is worked in rounds.
Start with green yarn (color A)
Make a magic ring
R1: ch1 (don't count this chain as a st), 8 hdc in magic ring, sl st in ch from beg to close round and tie off.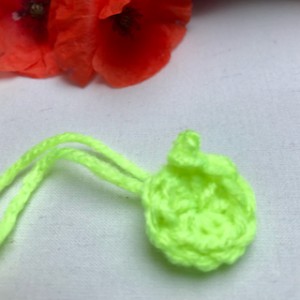 Stamens
Color B (black yarn),
don't turn your work
work in back loops only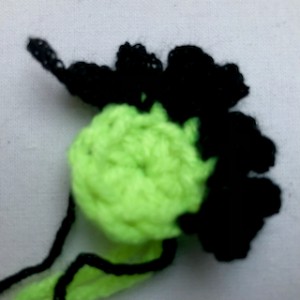 R2: ch1, 1sc in the first st, ch4, 1sc in the same st, ch4, 1sc in the same st (make 2 picots into the first st), *1sc in next st, ch4, 1sc in the same st, ch4, 1sc in the same st (2 picots)*, repeat * 7 time, sl st into the first st. Fasten off tie. Total: 16 picots
Step 2: Make the first petal
This part of the flower is worked in rows, back and forth. First one petal is worked and then a second and a third and a fourth.
Crochet Poppy – Petals (make 4)
Color C (red yarn)
Don't turn your work
Working in front loops of R1
Make a slip knot - you can start in any st you want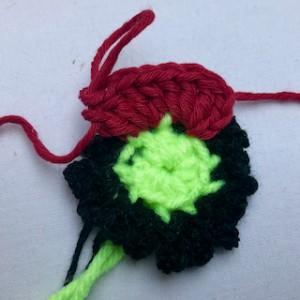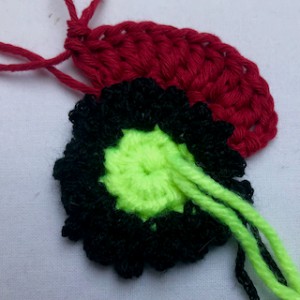 R1: Chain 3 (count as dc), 3dc in the same st, 4dc in next st st Turn. Total: 8dc (4dc in each st)
R2: ch3 (counts as dc), 1dc in next st, 2dc in next 4 st, 1dc in next 2st. Turn. Total: 12dc
R3: ch3 (count as dc), 1dc in next 2 st, 2dc in next st, 1 dc in next st, 2dc in next 2 st, 1 dc in next st, 2dc in next st, 1dc in next 3 st. Turn. Total: 16dc.
R4: ch1, 1sc in next 3st, 1hdc in next 10 st, 1sc in next 3st. Turn.
R5: ch1, sl st, 1sc in next 3st, 1hdc in next 3st, 2hdc in next 2st, 1hdc in next 3st, 1sc in next 3st, sl st Turn.
R6: sl st in each st along till end of row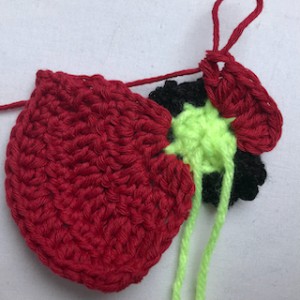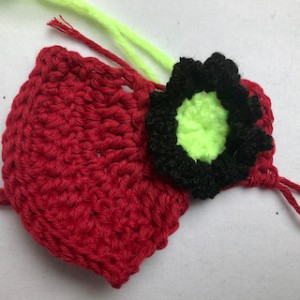 Repeat pattern 3 times from R1 to R6 until you have 4 petals.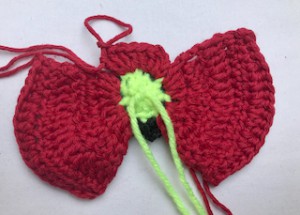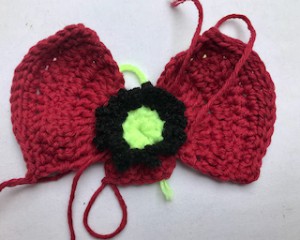 Add 2 leaves:
Work on the wrong sides of your work.
Color A
Crochet hook 3.0 mm
Make a slip knot into magic ring.
Chain 30chs.
Turn your work.
Work 2sc in each ch along till you reach the magic ring.
Slip stitch in the first st.
Slip stitch in next st.
Chain 30chs.
Work 2sc in each ch along till you reach the magic ring.
Slip stitch in the same st.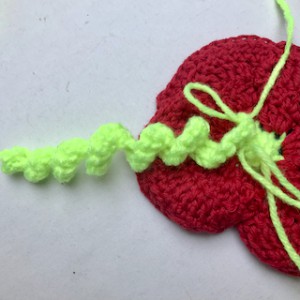 End off yarn, weave in all ends.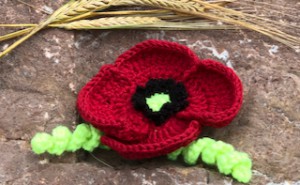 Size
Using the yarn weight and hook size suggested in this pattern will create Red Poppy flower approximately 13 cm in diameter.
HOW TO WEAR THE CROCHET RED POPPY
Arrange the crochet POPPY flower in a way that makes you happy and hand sew them to your lovely project. or attach the poppy to a brooch pin and wear it with pride. Many people say you should wear it on the left side of your coat or clothes, showing that you keep those who died close to your heart. It's also the side that military medals are worn on.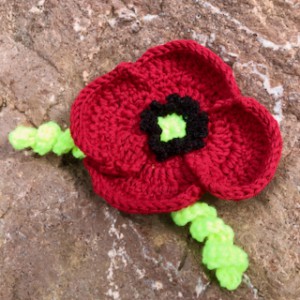 Have fun and let me know what you make. I would love to know how your project turns out.
Please don't forget to like and I really appreciate your comments.
If the pattern did not make sense to you, please don't hesitate to contact me, I am happy to help :)
If you like this pattern, please follow and share my projects on social networks as a THANK YOU and to help me to create new projects and patterns for you.
Thank you very much once again for your visit and see you soon!
♥♥♥