---
Crochet Silver Hairband Headband with flowers
I love crochet hair accessories. This free crochet flower hairband pattern is surprisingly easy and it makes and adorable headpiece for your girls.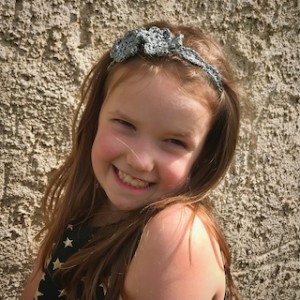 When I was beginning to plan this pattern, I knew I wanted to make something that would be casual enough for everyday wear but fancy enough to serve as a flower girl or princess accessory.
The pattern is available here below for free. It comes with a video guide as well.
VIDEO TUTORIAL
You can find the step-by-step video tutorials below which will help you along if you prefer to watch video instruction rather than using a written pattern.
Don't forget to subscribe if you like me videos, it's FREE!
A huge thanks to everyone who want to support my blog and download PDF paid pattern. Thank you very much, I really appreciate it and it helps me create more new video tutorials and patterns for you. Love you!
Let's start or PIN this idea to your Pinterest boards for later.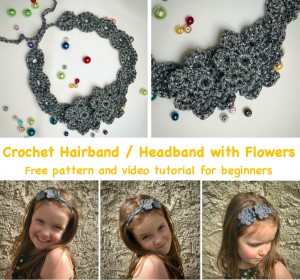 I used also this crochet flower as a hair tie as well:
This pattern is made for beginners - only a basic skill level is required to make it. If you don't understand any of my instructions, don't worry I am here for you - enter the comments at the end of this post.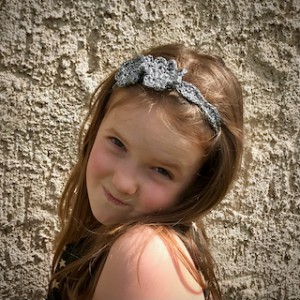 Silver Crochet Hairband Directions
This lovely Hairband is easy to make.
The pattern uses only basic crochet stitches - double crochet, single crochet and chains.
The flower is crochet in rounds.
The hairband is crochet in rows.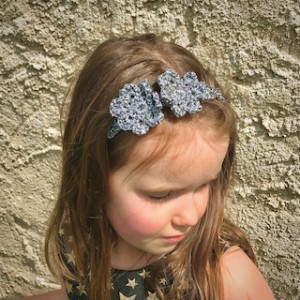 Yarn: Lamé by Lang YARNS, 75% Viscose, 25% Polyester, Weight: 25GRAMM, 224 Silver Glitter Yarn
For this pattern you will need 3.0 mm crochet hook.

Difficulty Level: Level 1 – Easy, for beginners
US crochet term:
SlSt – slip stitch
CH/s – chain/s
DC - double crochet
TR - tripple crochet
SC - single crochet
SK - skip
T - turn
ST/s - stitch(es)
REP - repeat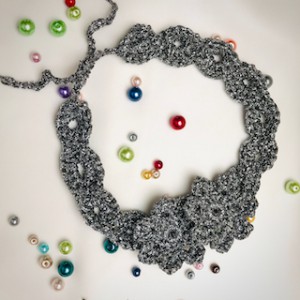 Hairband pattern
Foundation chain, 85 chains
R1: ch3, skip 3ch, work in 4th ch: 5dc, sk 2ch, sc in next, * sk 2ch, 5dc in next, sk 2ch, sc in next * from * to * repeat 12 times. You will have 13 groups of 5dc. There are 20 chains left at the end, use it as a drawstring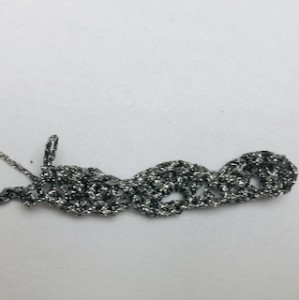 R2: turn your work, work on opposite side of foundation chain, repeat the pattern used in R1: 5dc, sk 2ch, sc in next, sk 2ch. You will have 13 groups of 5dc as well.
Chain 20 chains at the end to create a drawstring on opposite end.
End off yarns, weave in all ends.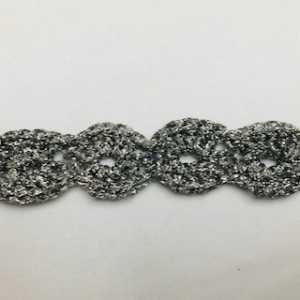 MEASUREMENT:
Chain at the end = 10 cm / 4 inch
Hairband = 38 cm / 15 inch
Flower pattern
Make a magic ring
R1: ch1, 14 sc into magic ring
R2: ch1, * in next st work: (1sc, ch3, 1sc), sk 1sc * from * to * repeat 7 times. Sl st to close round. You will 7 ch3 loop around.
R3: work in each ch3 sp: 1sc, 2dc, 1tr, 2dc, 1sc
Sl st to close round. End off yarn, weave in all ends.
Create 2 flowers.
Arrange the flowers in a way that makes you happy and hand sew them to your Hairband. I attached the Flowers on Hairband on 5th and 6th groups of dc.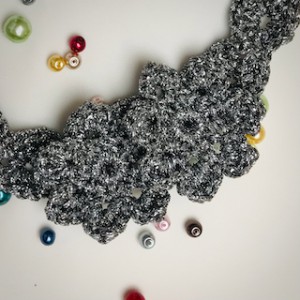 For longer hairband, chain more chains at the beginning of your projects until you reach the measurement you desire. You can decorate your hairband with more cute little flowers - it is up to you.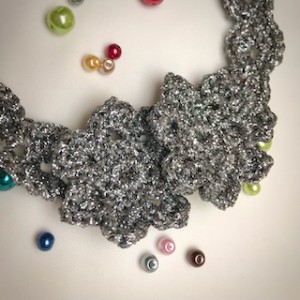 Have fun and let me know what you make. I would love to know how your project turns out.
Please don't forget to like and I really appreciate your comments.
If the pattern did not make sense to you, please don't hesitate to contact me, I am happy to help :)
If you like this pattern, please follow and share my projects on social networks as a THANK YOU and to help me to create new projects and patterns for you.
Thank you very much once again for your visit and see you soon!
♥♥♥