---
Simple Mini Handbag
2021-03-29
This Mini Hand Bag is made from cord yarn and it has a cute square shape. I simply fall in love with crocheting these mini handbags – you can very easily choose width and height you like! This is the very basic pattern, this bag is actually much easier to crochet than you might think and you will love it as it works up very quickly.
You need only the basic crochet stitches - single and half-double crochets! If you want to try something new, follow my video tutorial to learn new technique and try invisible joining at the end of each round instead of classic join with slip stitch. You can use technique for any other bag projects or baskets.
There is a crochet video tutorial to show you this wonderful pattern.
VIDEO TUTORIAL
You can find the step-by-step video tutorials below which will help you along if you prefer to watch video instruction rather than using a written pattern. Don't forget to subscribe if you like me videos, it's FREE!
A huge thanks to everyone who want to support my blog and download PDF paid pattern. Thank you very much, I really appreciate it and it helps me create more new video tutorials and patterns for you. Love you!
Let's start or PIN this idea to your Pinterest boards for later.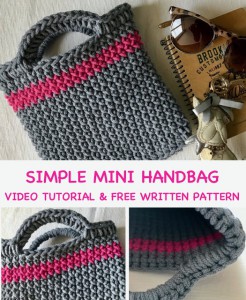 MATERIALS NEEDED FOR MINI HANDBAG
Bobbiny – 3 mm, 100m, 100% recycled cotton cord, 1 skein
Hook: Size 4.0 mm, 4.5 mm, 5.0 mm
Scissors
Tapestry Needle
STITCHES USED, IN US TERMS:
ch = chain
sc = single crochet
cssc = crossed single crochet
hdc = half double crochet
sl st = slip stich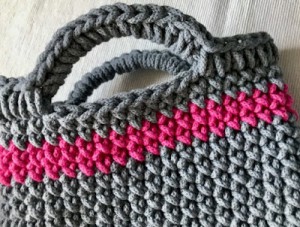 Special stitch used:
inv join = invisible join, this could be used instead of classic slip stitch, it is made over chain you started with, it is made for a much more discreet seam, it is ideal for your mini bag!
cssc = crossed stitch single crochet
step 1: insert hook into next stitch as normal sc,
step 2: instead of yarning over, with hook pointing down, grab yarn,
step 3: pull up a loop, finish as a normal sc - yarn over and pull through 2 loops on hook
blo = When crocheting into the back loops, I also pick up the third loop, I find this provides stability to the project.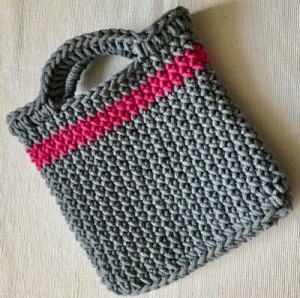 WRITTEN PATTERN
BASEMENT
Use crochet hook 5.0 mm
ch19
Use crochet hook 4.5 mm
R1: sc in 2nd ch from hook, 1sc in each ch till end of row (now you have 18sc)
2sc in last ch,
1 sc in each ch on opposite site of chain (again you create 18sc)
2 sc in first ch at the beg of this round
In R1 you create 40 sc in total
Use crochet hook 4.00 mm from this point till end of your work.
Join round with sl st or try invisible joining where you make a join over chain, it is used for a much more discreet seam on the side of your mini bag
R2: ch1, 1 cssc in each st around in back and third loops only (40 cssc)
join round with invisible join over chain at beg of round
HANDBAG BODY
R3 - R18: repeat R2, 40 cssc in each round, join round with invisible join over chain at start of each round
HANDLE
We will create the handle in next round.
R19: ch 1, 1 cssc in next 7 cssc, 11 ch, skip 9 cssc, 1 cssc in next 12 cssc, 11 ch, skip 9 cssc, 4 cssc, invisible join.
This is pattern for this mini handbag, make sure you centre your handles on each side, you may have to adjust in case you have different number of stitches.
R20: ch1, work sc into bottom of cssc from previous round.
This will create a long stitch around the top of the bag.
1 sc in next 7 sc, 14 hdc over chain, 1 sc in next 12 sc, 14 hdc over chain, 1 sc in next 4 sc.
Cut the yarn, fasten off, weave in ends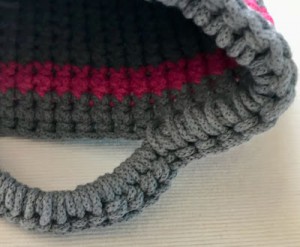 Measurement = square:
7.5 inch x 7.5 inch / 19cm x 19 cm
That it is! Now you can add a flower or a label or you can use some buttons on your wonderful mini hand bag! Feel free to add some decoration to make your bag just perfect!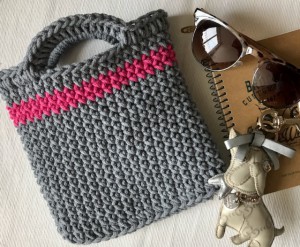 Have fun and let me know what you make. I would love to know how your project turns out.
Please don't forget to like and I really appreciate your comments.
If the pattern did not make sense to you, please don't hesitate to contact me, I am happy to help :)
If you like this pattern, please follow and share my projects on social networks as a THANK YOU and to help me to create new projects and patterns for you.
Thank you very much once again for your visit and see you soon!