---
Easy Cocoon Shrug
2021-01-08
How to crochet easy Cocoon Shrug/Wrap
When trying to decide on a yarn for this wonderful cocoon shrug, I knew I wanted something warm and soft. I chose Merino Fine yarn! The colour choice was also easy – I picked a violet colour – it looks so nice! The pattern is available here below for free. It comes with a video guide as well.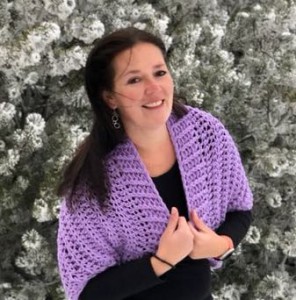 VIDEO TUTORIAL
You can find the step-by-step video tutorials below which will help you along if you prefer to watch video instruction rather than using a written pattern. Don't forget to subscribe if you like me videos, it's FREE!
A huge thanks to everyone who want to support my blog and download PDF paid pattern. Thank you very much, I really appreciate it and it helps me create more new video tutorials and patterns for you. Love you!
This pattern is made for very beginners - only a basic skill level is required to make it. If you don't understand any of my instructions, don't worry I am here for you - enter the comments at the end of this post.
Let's start or PIN this idea to your Pinterest boards for later.

If you like this Cocoon, you may would like to try this amazing lovely and romantic scarfs and cowls:
It's winter time, my friends – let's grab a cup of hot tea or coffee, cozy up and let's get started to make this perfect winter shrug pattern!
Cocoon Shrug Directions
For this M size you will need:
LANG YARNS, Merino 50 – 100% virgin wool, merino extrafine, super-wash, 90m/100g – 7 skeins
For this pattern you will need 12 mm crochet hook.
This Cocoon is made as one panel, one rectangle (crocheted as a one part) – it is crocheted together.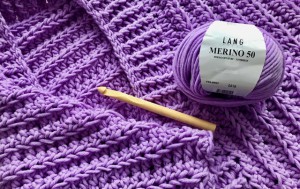 Size: M this can easily be adapted to a smaller size or bigger size just by reducing or increasing the number of chains and rows for the cocoon and as well as making less or more chains in the basic chain.
Difficulty Level: Level 1 – Easy, for beginners
US crochet term:
SlSt – slip stitch
CH/s – chain/s
SC – single crochet
HDC - half double crochet
DC - double crochet
FPDC - front post double crochet
BPDC - back post double crochet
SK - skip
T - turn
ST/s - stitch(es)
REP - repeat
YO – yarn over
Special stitches used: hdc in the 3rd loop only - the 3rd loop is hidden under the back loop.
Special stitches used: front post double crochet (fpdc) and back post double crochet (bpdc)
Front and back post crochet stitches are used to create wonderful texture in crochet. Instead of making your stitch through the loops at the top of the stitch, you make it around the stitch. Everything else stays the same. The most challenging things about crochet post stitches are knowing where and how to insert the hook. There are front post stitches and back post stitches.
For front post double crochet stitches (fpdc): yarn over, insert your hook from front to back then from back to front around post of stitch indicated, yarn over, pull through stitch, then finish your double crochet as normal, yarn over, pull through 2 lps, yarn over, pull through last 2 lps
For back post double crochet stitches (bpdc): yarn over, you insert your hook from back to front then from front to back around post stitch indicated, yarn over, pull through stitch, then finish your double crochet as normal, yarn over, pull through 2 lps, yarn over, pull through last 2 lps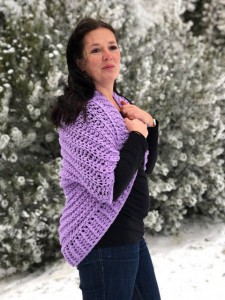 Pattern Notes
1) The direction shown are for M size but can be easily converted into bigger size or smaller size – just measure your starting chain shorter or longer.
2) In collar part: A Ch 3 at beg of the row counts as dc throughout.
3) In shrug part: a ch2 at the beg row DOESN'T count as hdc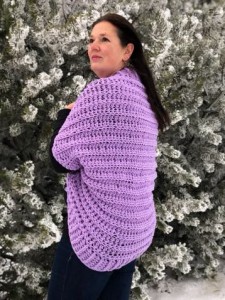 THE PATTERN
The Shrug
Pick up the 12mm crochet hook and let's make a chain crochet foundation.
Ch65
R1: Ch1, 1hdc in the 2rd ch from the hook, 1hdc in each ch across, turn (65 hdc)
R2: ch1 (don't count as a st), 1 hdc in each st across in 3rd loop only, turn (65 hdc)
R3: ch1 (don't count as a st), 1 hdc in each st across in 3rd loop only, turn (65 hdc)
Repeat R2 and R3, make 34 rows in total or as many as you wish.
Don't fasten off, leave a longer tail for sewing/joining the cocoon shrug.
You have made a rectangle 40 inch / 100cm (longer side) x 31.5 inch / 80cm (shorter side)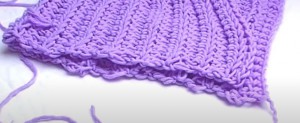 Time to join your Cocoon Shrug:
Directions: Fold your work in half with wrong side facing out. Fold the shrug over the long side, the shorter side (31.5 inch) marrying the 1st ch from beginning and the 1hdc from the last hdc row - use the tail from beg and make a knot.
Take a smaller hook - I used 8mm crochet hook.
You will now begin to join the shrug by slip stitching the short sides of your shrug.
The longer side is to be left open.
Start slip stitching from the knot (the joined corners), join st to st by sl st, make sure the rows are aligned, join first 11 rows from knot together, leave 12 rows open for the arm.
Then continue crocheting the border for the arm opening.
ch1, 1sc evenly all the way around the armhole (I made 22 sc around in total).
Sl st to the top of ch1 to join.
You may like your sleeves to be longer if so just add more rounds until you are happy with the length. Fasten off and repeat the same for the other sleeve.
Fasten off. Weave in all ends.
Repeat this on the opposite side.
With the shrug still folded, grab the middle of the long side and open it.
You will now add a border to your neckline opening.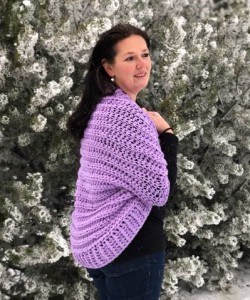 The Collar
Use crochet hook 12mm
Begin working from the joining.
Rejoin the yarn.
R1: Ch3, 1 dc into each st across (place a dc into the seam on the opposite side as well), join the row by sl st in the 3rd ch from beg
R2: Ch3,
*1fpdc in next st, 1 bpdc into next*, repeat *to* around, ending with fpdc (if it doesn't end up add an extra dc) join the row by sl st in the 3 rd ch from beg
R3 = repeat row 2
Make 6 rows or as many you wish to have your collar width.
R7 (optionally) = ch1, 1 sl st into each st around to make a border, sl st to the top of ch1 to join.
Fasten off your work and hide all loose tails and and you are all done with your Cocoon Shrug.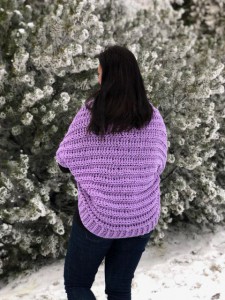 THE FINAL SIZE MEASUREMENT:
The collar width: 4inch / 10cm
The armhole opening width: 4.72 inch / 12cm
The long side: 40 inch/ 100 cm
The short side: 31.5 inch / 80 cm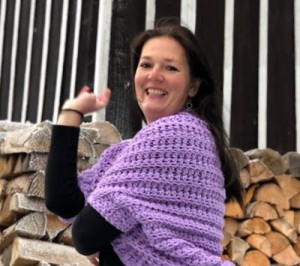 Want a printable copy of this pattern? Why not visit my Etsy shop and purchase the PDF with photo instructions. Not only does it mean you get your own copy of the pattern to print, you also support a small business and help me to keep making free patterns!
Have fun and let me know what you make. I would love to know how your project turns out.
Please don't forget to like and I really appreciate your comments.
If the pattern did not make sense to you, please don't hesitate to contact me, I am happy to help :)
If you like this pattern, please follow and share my projects on social networks as a THANK YOU and to help me to create new projects and patterns for you.
Thank you very much once again for your visit and see you soon!