---
Crochet EASY and SOFT BLUE Hooded Cowl
2022-01-07
This crocheted EASY and super SOFT Hooded cowl pattern is so practical and fun to make. And it is a perfect for this winter time – your head will be toasty thanks to the hood. And moreover, this is a trendy winter wear item. I really love that the hooded style on this cowl.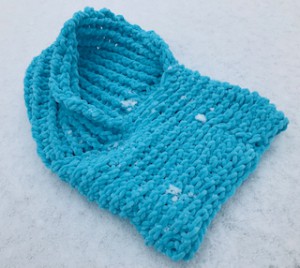 The great things about this new pattern are: it's super beginners friendly, quick work, only two balls and wearing with or without hood - it can be worn wherever you need some warmth.
You know me, I love to make so simple shapes and easy patterns.
The pattern is available here below for free. It comes with a video guide as well.
So let me get to this super easy project for you.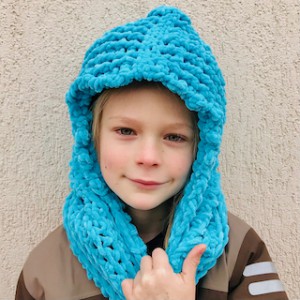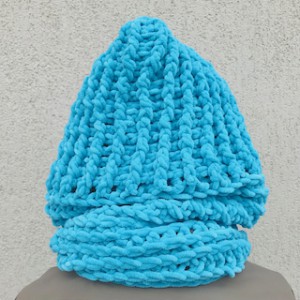 VIDEO TUTORIAL
You can find the step-by-step video tutorials below which will help you along if you prefer to watch video instruction rather than using a written pattern. Don't forget to subscribe if you like me videos, it's FREE!
A huge thanks to everyone who want to support my blog and download PDF paid pattern. Thank you very much, I really appreciate it and it helps me create more new video tutorials and patterns for you. Love you!
If you pin my patterns to your Favorites and share it on social media as a link, I will be able to share a lot more free crochet patterns for you all.

Stay in touch at Facebook, Instagram and Pinterest.
Let's start or PIN this idea to your Pinterest boards for later.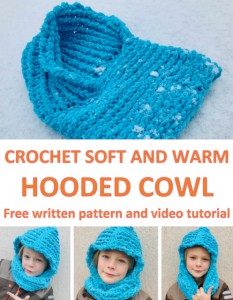 I have several Cowls, Shawls and Wraps related free crochet patterns. They are different levels of difficulties and techniques that you might have never seen before.
This is my favorite pattern for kids HOODED POCKET SHAWL:
This pattern is made for beginners - only a basic skill level is required to make it. If you don't understand any of my instructions, don't worry I am here for you - enter the comments at the end of this post.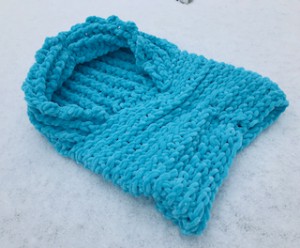 When trying to decide on a yarn for this hooded scarf, I knew I wanted something warm and very soft. I chose very very soft velvet yarn: SAMET SOFT VLNIKA
The colour choice was also easy – I picked an amazing blue colour – it looks perfect for boys!
This crocheted Hooded Cowl is my first winter hooded garment of this new season and I'm so pleased with how it turned out!
It's winter time, my crochet friends – let's grab a cup of coffee, cozy up and let's get started to make this perfect Hooded Cowl pattern!
BLUE HOODED COWL Directions
For this KIDS size you will need:
SAMET SOFT COLOR, 100% polyester, super soft, net weight 100g, 100m, 2 skeins
https://www.vlnika.com/z14602-samet-softyarn
For this pattern you will need 7.00 mm crochet hook.
This Hooded Cowl is made of 2 panels (crocheted as a one part) – one is for the cowl and one is for the hood.
Size: this kids size can easily be adapted to a smaller size or bigger size just by reducing or increasing the number of chains and rows for the cowl and as well as making less or more chains for the hood.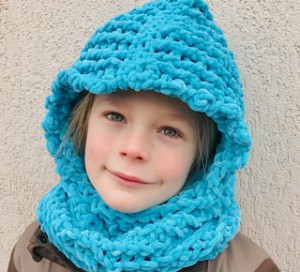 Difficulty Level: Level 1 – Easy, for beginners
US crochet term:
SlSt – slip stitch
CH/s – chain/s
HDC - half double crochet
FPDC - front post double crochet
BPDC - back post double crochet
SK - skip
T - turn
ST/s - stitch(es)
REP - repeat
YO – yarn over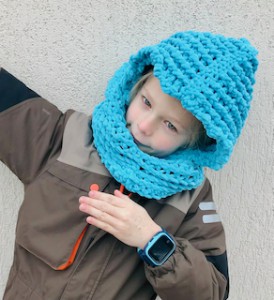 Special stitches used: hdc in the 3rd loop only - the 3rd loop is hidden under the back loop.
Special stitches used: front post double crochet (fpdc) and front post triple crochet (fptr)
Front and back post crochet stitches are used to create wonderful texture in crochet. Instead of making your stitch through the loops at the top of the stitch, you make it around the stitch. Everything else stays the same. The most challenging things about crochet post stitches are knowing where and how to insert the hook. There are front post stitches and back post stitches.
For front post double crochet stitches (fpdc): yarn over, insert your hook from front to back then from back to front around post of stitch indicated, yarn over, pull through stitch, then finish your double crochet as normal, yarn over, pull through 2 lps, yarn over, pull through last 2 lps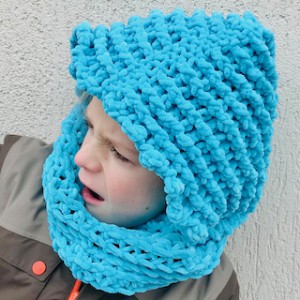 Pattern Notes
1) Before you start take a measurement. Chain until you reach the measurement around the head - the neck-warmer should be easily slipped over head.
2) The direction shown are for kids size, boy 7 years old, but can be easily converted into bigger size or smaller size – just measure your starting chain around your head, if it fits snuggly then you can use this chain amount for your size.
3) A Ch 1, ch2 at beg of the row DOESN'T count as hdc throughout
There are 2 parts of this project:
A) Cowl
B) Hood
This pattern is for kids size, but you can easily adapt to a smaller size or bigger size just by reducing or increasing the number of ch and rows for the hood and as well as making less or more chains for the cowl.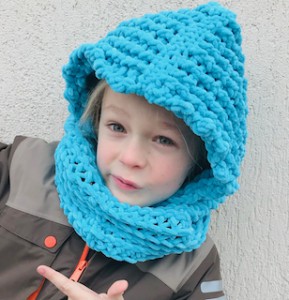 PART A = THE COWL
Pick up the 5mm hook and let's make a foundation chain lossely.
Chain 40 chains, join the chain with a slip stitch.
1R: ch1, 1hdc in each and every chain around, in 3rd loop. Sl st in 1st ch from beg to close the round. (40 hdc)
Measurement: 52 cm / 20 inch circumference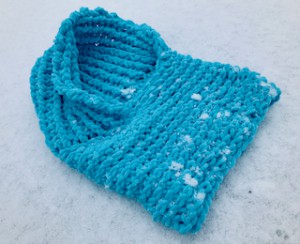 2R: ch1, 1hdc in each and every st around, in 3rd loop. Sl st in 1st ch from beg to close the round. (40 hdc)
R3- R13: Repeat R2
Measurement: the neckwarmer / cowl is 22 cm / 8.5 inch high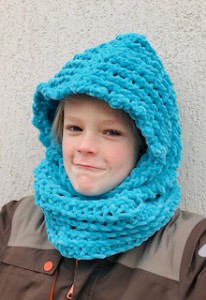 PART B = THE HOOD
Still use the 7mm crochet hook
Work in rows! Turn your work
R14: ch1, 1hdc in next 36 st, in 3rd loop, skip 4 st at the end of the row, turn (36 hdc)
R15: ch2, 1fpdc in 1st st *1bpdc in next st, 1fpdc in next st* repeat from *to* across till you reach the end of row, turn (36 dc)
R14 - R30: repeat R15
Measurement: 24 cm / 9.5 inch high
Join your Hood:
Directions: Fold the HOOD in half, place the beg to the end, use tapestry needle and join stitch to stitch.
Fasten off your work and hide all loose tails.
THE FINAL SIZE MEASUREMENT:
COWL / NECKWARMER is 22 cm / 8.5 inch high
HOOD = 24 cm / 9.5 inch high
COWL + HOOD height = 46 cm / 18 inch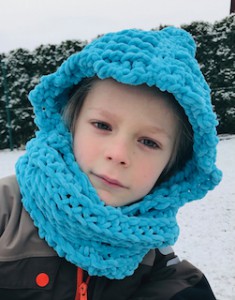 ♥♥♥
Have fun and let me know what you make. I would love to know how your project turns out.
Please don't forget to like and I really appreciate your comments.
If the pattern did not make sense to you, please don't hesitate to contact me, I am happy to help :)
If you like this pattern, please follow and share my projects on social networks as a THANK YOU and to help me to create new projects and patterns for you.
Thank you very much once again for your visit and see you soon!
♥♥♥