---
Hooded Pocket Shawl Blue Owl - shawl and hood and mitten - all in one!
2020-09-10
The Hooded shawl With Pockets pattern will teach you how to make a shawl and hood, and mitten – all in one combo. And this is a perfect for this fall time – there is a bit cold in morning already, this crochet shawl has pockets, so you can stick your hands in them to keep warm. And your head will also be toasty thanks to the hood. And moreover, this is a trendy fall and winter wear item.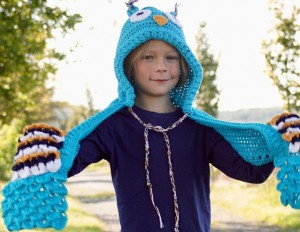 VIDEO TUTORIAL
You can find the step-by-step video tutorials below which will help you along if you prefer to watch video instruction rather than using a written pattern. Don't forget to subscribe if you like me videos, it's FREE!
A huge thanks to everyone who want to support my blog and download PDF paid pattern. Thank you very much, I really appreciate it and it helps me create more new video tutorials and patterns for you. Love you!
Let's start or PIN this idea to your Pinterest boards for later.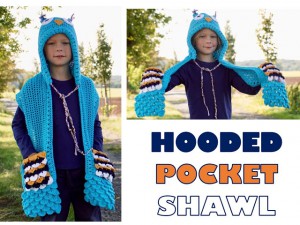 Do you like crocheting for boys? You may would love to see these patterns:
Hooded Pocket Shawl Directions
This Hooded Shawl is made of 2 panels – one is for the shawl and one is for the hood, they are hooked together.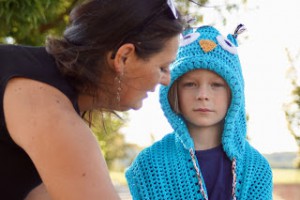 Size: Child, this can easily be adapted to a smaller size or bigger size just by reducing or increasing the number of chains and rows for the hood and as well as making less or more chains for the Shawl.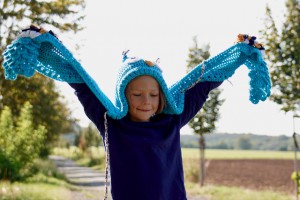 For this child size you will need:
7 skein of Drops Paris yarn and some other 3 colours – I used dark blue, white and orange yarns, about 1/2 skein of each.
Drop Paris – 100% cotton, 50g/1.8oz, 75m/82yds
Drop Belle – orange, navy blue, white – 53% cotton, 33% viscose, 14% linen, 50g/1.8oz, 120m/131yds
For this pattern you will need 4mm, 5 mm and 8 mm hooks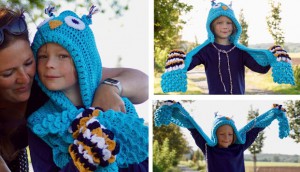 Difficulty Level: Level 2 – Intermediate
US crochet term:
SlSt – slip stitch
CH/s – chain/s
SC – single crochet
DC - double crochet
SK - skip
T - turn
ST/s - stitch(es)
REP - repeat
YO – yarn over
Special stitches used:
DC Puff stitch (3DC cluster stitch)
Crocodile stitch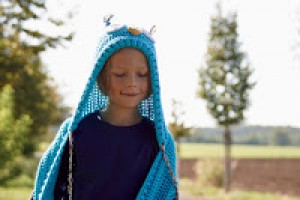 Pattern Notes
1) Before you start take a measurement of height of your kid. The hands have to reach the pockets :) The height = the length of the shawl (the length of the foundation chain) I started with 140 DC = 120 cm / 47,24 inch
2) This pattern is for child size but you can easily adapted to a smaller size or bigger size just by reducing or increasing the number of ch and rows for the hood and as well as making less or more chains for the Scarf. Remember that when making your shawl longer you will need more yarn.
3) A Ch 3 at beg of the row counts as dc throughout, a ch 2 at the beg row counts as hdc throughout, and a ch 1 at beg of row counts as sc throughout
4) DC puff stitch = 3DC cluster stitch = yo, insert hook in st, yo pull through st, pulling on the loops making them even with the first, repeat that again 2 more times, yo, you will have 4 loops and pull through 4 of loops, ch1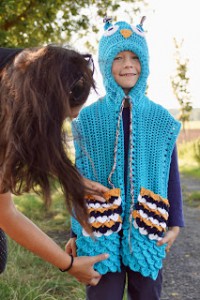 There are 4 parts of this project:
A) The shawl
B) The hood and the rope
C) The hoodies decorations – ears, eyes, nose
D) Crocodile stitches border and the pockets
Want a printable copy of this pattern? Why not visit my Etsy shop and purchase the PDF with photo instructions. Not only does it mean you get your own copy of the pattern to print, you also support a small business and help me to keep making free patterns!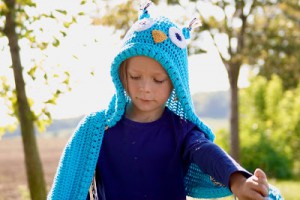 SPECIAL STITCHES INSTRUCTIONS
DC Puff stitch
The DC puff stitch is a basic crochet stitch. It's easy to learn. I love puff stitches, you can use them to create fabulous texture in your next crochet project!
The puff can be created with a varying number of stitches in the work. Follow the instructions for the number of stitches used in your pattern. To work puff stitch in this version, work as follows:
DC Puff Stitch instructions: Yarn over and insert the hook always into the stitch where you are creating your puff stitch. Yarn over again and pull through 2 loops. There will be 2 loops on the hook.
Repeat 2 more times. Each time adds 1 more loop to the hook. There will be 4 loops on the hook for a dc puff stitch. Yarn over and pull through all 4 loops on the hook. Finish with chain one. An extra chain stitch is often used to secure the puff stitch firmly.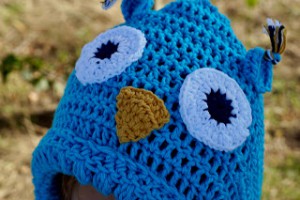 Crocodile stitch
There are a few different ways to crochet crocodile stitch, before we get started, you really need to get a solid understanding of what this crochet stitch is all about. Once you understand it, crocheting it becomes a lot less intimidating.
This is a unique and highly textured stitch pattern that is a lot of fun to learn. It creates a dense and bulky fabric. It only uses chain, single crochet and double crochet, but it is the placement of the stitches that makes this quite tricky to learn! Once you get the hang of it, I think you will enjoy adding this to your repertoire of crochet skills!
Instructions:
1) Crochet a foundation chain that is a multiple of 3 stitches + 1. For the border in my project I crocheted a of 28 chains.
2) ch3 (as a 1 dc), 1 dc in 4th chain from hook. This counts as the first set of 2 dc. Then ch2, skip 2ch, 2 dc into the next chain
3) Repeat: Chain 2, skip 2 chains, 2 dc in next stitch, you will end with 2 dc in the last stitch of your foundation chain. This will give you a foundation row of 2 dc.
4) The crocodile scales are worked around these double crochet stitches. They are essentially crochet post stitches, but you will be working multiple post stitches around each double crochet post. You will be working half of the stitches "backwards" so that the first half of the crocodile scale is a mirror image of the second half. The first half is crochet from top to bottom and the second half from bottom to top.
5) Chain 3 (as 1 dc) and turn. Work 4 dc around the 1st stitch. These are worked from the top down, so that the second dc is worked around the same stitch directly below the first dc. This makes the first half of the first crocodile scale. Shift the work and chain 1.
6) Skip 2DC group. Crochet 5 dc post stitches around the next dc stitch in your row working from the top down.
7) Ch1, turn the work, rotate it to right and work 5 dc around the stitch, working from bottom to top. This creates the second half of the first crocodile scale.
8) Repeat across the row and make 5 crocodile scales in the row. You will end with a scale and slip stitch into the last DC.
9) Work on the foundation row of 2dc (step 2 and 3: ch3 (as 1 dc) and make 1dc in between the scale, ch2, 2 dc between next 2dc group, ch2. Repeat across to have a foundation row of dc.
10) You are now ready to create your 2nd row of crocodile crochet stitches. The 2nd row of scales = skip the 1st dc group, repeat: 5dc around the first dc of the second group of dc, ch1, turn, 5dc around the next dc, ch1, finish with sl. st in the first dc. Make 4 scales in this row.
11) Repeat step 5 to 10. Finish when you have 7 rows of scales.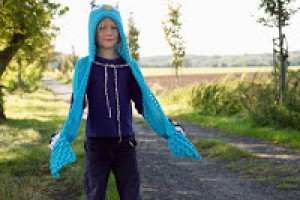 Have fun and let me know what you make. I would love to know how your project turns out.
Please don't forget to like and I really appreciate your comments.
If the pattern did not make sense to you, please don't hesitate to contact me, I am happy to help :)
If you like this pattern, please follow and share my projects on social networks as a THANK YOU and to help me to create new projects and patterns for you.
Thank you very much once again for your visit and see you soon!