---
Crochet EASY and SCARY Zombie Head
2021-10-01
Who else can't wait for Halloween? I am ready to welcome this wonderful holiday and I thought I would come with some creepy Halloween Crochet Pattern for you! I started with these quick and scary little Crochet Zombies Heads for Halloween. These ornaments will put your home in the spirit of the Halloween season and they could make a perfect Halloween gift for your own little monsters!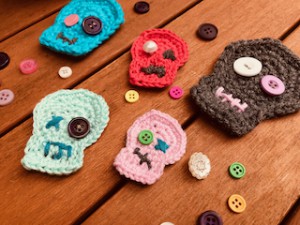 VIDEO TUTORIAL
You can find the step-by-step video tutorials below which will help you along if you prefer to watch video instruction rather than using a written pattern. Don't forget to subscribe if you like me videos, it's FREE!
So if you're looking for something very simple and very quick for Trick or Treat Gifts, I would suggest making these scary little Zombie Heads ornaments. They are perfect and I think you'll be happy with the result.
A huge thanks to everyone who want to support my blog and download PDF paid pattern. Thank you very much, I really appreciate it and it helps me create more new video tutorials and patterns for you. Love you!
Let's start or PIN this idea to your Pinterest boards for later.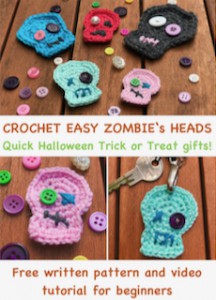 If you like home decoration you would may love to create these Happy Leaves or Pears Coasters as well:
This pattern is a simple head, it is strung on a basic crochet stitches. You can use any yarn you like - for this project is great to use up scrap yarns!
If you don't understand any of my instructions, don't worry I am here for you - enter the comments at the end of this post.
ZOMBIE HEAD DIRECTIONS
This Head is very easy and quick to make. That leaves more time to get creative and experiment with different facial expressions!
The pattern uses only basic crochet stitches - double crochets, half double crochets and single crochets and chains.
The pattern was made with scrappy yarns - 4 sizes.
Crochet hooks: 2.5, 3.00, 3.50 and 4.00 mm.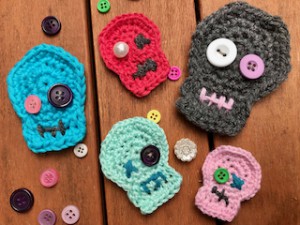 You can use also some buttons and pins or key chains.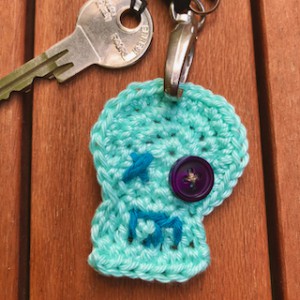 Difficulty Level: Level 1 – Easy, for beginners
US crochet term:
SlSt – slip stitch
CH/s – chain/s
DC - double crochet
HDC - half double crochet
SC - single crochet
SK - skip
T - turn
ST/s - stitch(es)
REP - repeat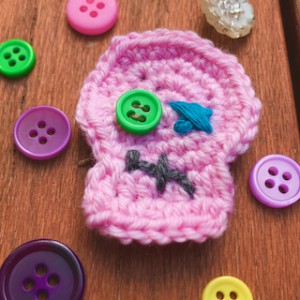 These SUPER EASY Zombies Head would look great strung across a doorway, dangling from your porch, or hidden in your treats bag.
PATTERN NOTES
1) A ch1 at beg DOESN'T count as a stitch throughout.
2) The project is crochet as a circle. The Head is worked in rounds. Join each round with a slip stitch.
3) You can make Heads bigger or smaller with a thicker/thinner yarn or a larger/smaller hook size.
4) Use any colours you love, attach button's eyes or hand sew eyes.
5) Arrange the Heads in a way that makes you happy or hand sew them to your other projects.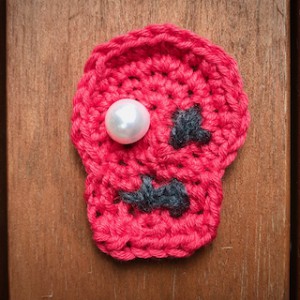 THE WRITTEN PATTERN
Make a magic ring.
R1: ch1, work 8 sc into the magic ring, sl st in 1st ch to close round (8 sc)
R2: ch1, work 2 sc into each st around, sl st in 1st ch to close round (16 sc)
R3: ch1, rep *2 sc in next 1 st, 1 sc in next st* rep from * to * till end of round, sl st in 1st ch to close round (24 sc)
R4: ch1, rep *2 sc in next 1 st, 1 sc in next 2 st* rep from * to * till end of round, sl st in 1st ch to close round (36 sc)
R5: Work in row: ch3, 1dc in next st, 1 hdc in next 2 st, 1 sc in next st, 1 hdc in next 2 st, 1dc in next st. Turn (7 st)
R6: Work in row: ch2, 1hdc in each st till end of row (7 st)
Optionally: make a chain, chain 10 chains and join the chain with the stitch you just started the chain.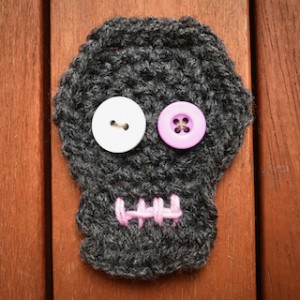 Cut the yarn, fasten off and wave all ends
I would recommend you to leave a longer end (approx. 7.8 inch / 20 cm) and use this end to join the pin or the key chain on the Zombie Head.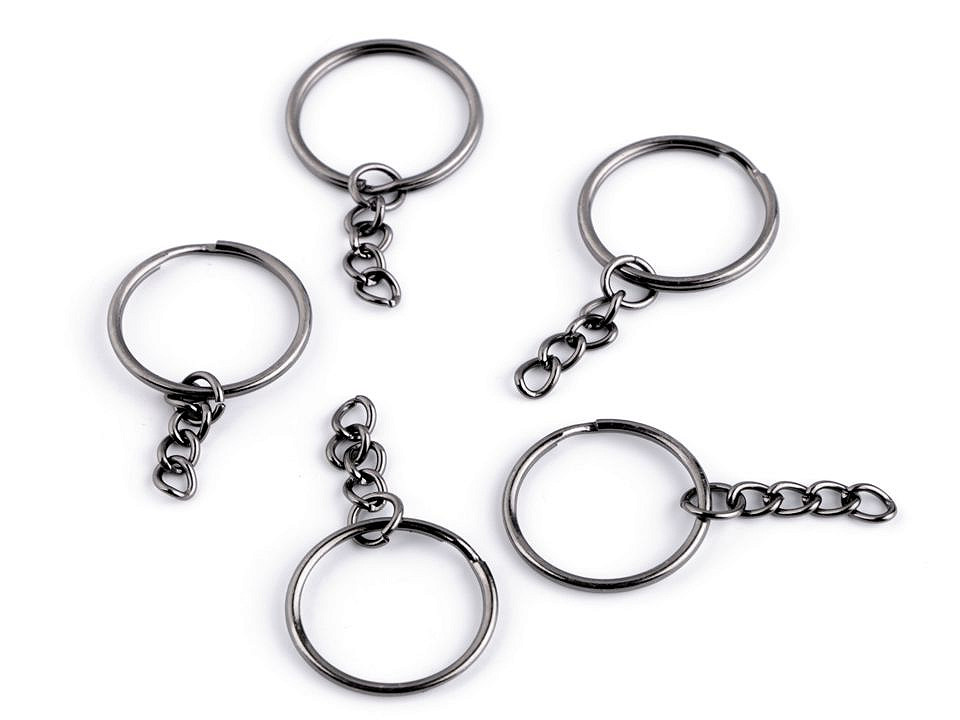 FINISHING with a tapestry needle
Sew the mouth and teeth, start with the yarn on the 4th row of the head.
Weave in all ends.
Try out different colour combinations and you'll soon have a whole gang of Crochet Halloween Zombies Heads ready to play tricks on your guests!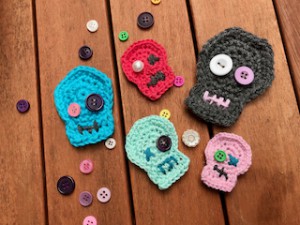 MEASUREMENT
Big Zombie Head / 4.0 mm crochet hook: 8.5 cm x 7 cm
Bigger Zombie Head / 3.5 mm crochet hook: 7 cm x 5.5 cm
Small Zombie Head / 3.0 mm crochet hook: 5.5 cm x 4.5 cm
Smaller Zombie Head / 2.5 mm crochet hook: 4.5 x 3.5 cm
Have you seen this Halloween video tutorial yet?



Have fun and let me know what you make. I would love to know how your project turns out.
Please don't forget to like and I really appreciate your comments.
If the pattern did not make sense to you, please don't hesitate to contact me, I am happy to help :)
If you like this pattern, please follow and share my projects on social networks as a THANK YOU and to help me to create new projects and patterns for you.
Thank you very much once again for your visit and see you soon!
♥♥♥
Comments
Overview of comments