---
Crochet Easy Scrappy Little Stars
2021-11-28
How to crochet little Stars ornaments
Who else can't wait for Christmas Holidays? I love to make homemade things and creating beautiful gifts for my family and my lovely friends.
I thought I would come with some quick and super easy Holiday Crochet Pattern for you! I started with these cute little Crochet Stars. These cute ornaments will put your home in the spirit of the Holiday season and they could make a nice garland decoration!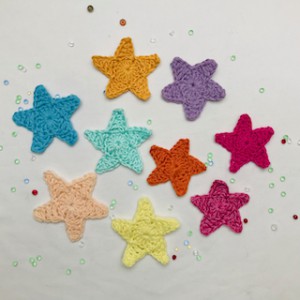 The written pattern is available here below for free. It comes with a video guide as well.
VIDEO TUTORIAL
You can find the step-by-step video tutorials below which will help you along if you prefer to watch video instruction rather than using a written pattern. Don't forget to subscribe if you like me videos, it's FREE!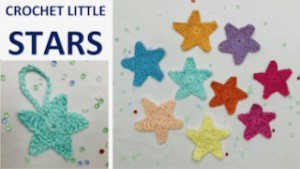 A huge thanks to everyone who want to support my blog and download PDF paid pattern. Thank you very much, I really appreciate it and it helps me create more new video tutorials and patterns for you. Love you!

If you pin my patterns to your Favorites and share it on social media as a link, I will be able to share a lot more free crochet patterns for you all.
Stay in touch at Facebook, Instagram and Pinterest.
Let's start or PIN this idea to your Pinterest boards for later.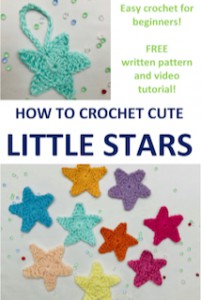 If you like Christmas decoration you would may love to create these SNOWFLAKES COASTERS or SWEET LITTLE ANGELS ornaments as well:
I hope they keep you busy right through the holidays making beautiful decorations to add to your trees or place on Holidays Greeting's cards or on Christmas gifts and presents.
They are perfect and I think you'll be happy with the result. I think crocheting and Christmas ornaments and decorations go hand in hand. What do you think? This pattern is made for beginners - only a basic skill level is required to make it. If you don't understand any of my instructions, don't worry I am here for you - enter the comments at the end of this post.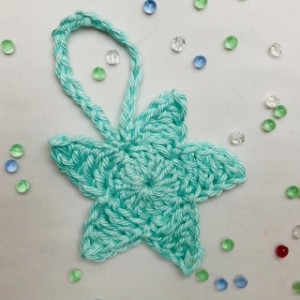 EASY LITTLE STAR DIRECTIONS
This STAR is very easy and quick to make.
The pattern uses only basic crochet stitches - triple, double, half double, single crochets and chains.
The pattern was made with scappy Yarn.
I like to use Drops Safran, 100% cotton, 5ply/sport, 50g = 160m
Crochet hook 3.0 mm.
Difficulty Level: Level 1 – Easy, for beginners
US crochet term:
SlSt – slip stitch
CH/s – chain/s
SC - single crochet
HDC - half double crochet
DC - double crochet
TR - treble / triple crochet
SK - skip
T - turn
ST/s - stitch(es)
REP - repeat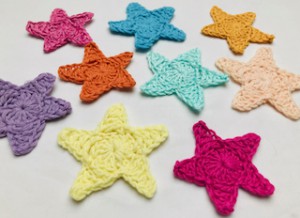 PATTERN NOTES
1) A ch2 at beg of the row counts as a dc throughout.
2) The project started as a circle, the circle is finished by a slip stitch.
3) This little Star measures: 7 cm
4) You can make this Little Star bigger with a thicker yarn or a larger hook size.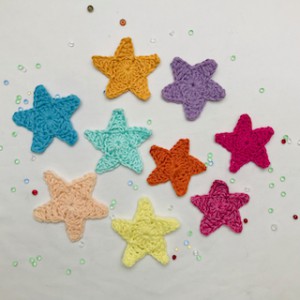 THE PATTERN
Make a magic ring.
R1: ch3 (doesn't count as a st), work 15 dc into the magic ring, sl st to the 3rd ch from beg (15 dc)
You will have 15 dc placed in the magic ring.
R2: *ch4 and now work in chain you just made: 1sc in 2nd chain. 1hdc in 3rd chain, 1dc in 4th chain, 1tr into the same st as you started ch4, skip 2 st, 1sl st in next st* repeat from * to * till end of round, join with sl st in 1st
Cut the yarn. Fasten off.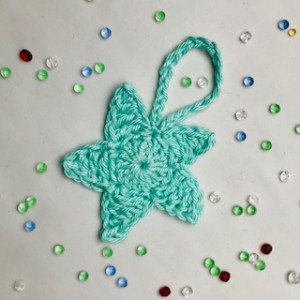 Create a loop on top of the Star by sewing a loop to hang it.
Or create a chain on the top of the Start, chain 20 chains and the slip stitch into the stitch you started the chain.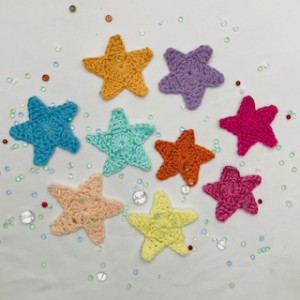 ♥♥♥
Have fun and let me know what you make. I would love to know how your project turns out.
Please don't forget to like and I really appreciate your comments.
If the pattern did not make sense to you, please don't hesitate to contact me, I am happy to help :)
If you like this pattern, please follow and share my projects on social networks as a THANK YOU and to help me to create new projects and patterns for you.
Thank you very much once again for your visit and see you soon!
♥♥♥