---
Soft and Cosy Herringbone stitch Blanket Hand knitted
2023-04-20
I love loop yarns, they are so soft and fun to work with! There are many different style and brands and so many colors!
For this video tutorial I decided to use loops yarn ELZA and I chose 2 colors to make a beautiful 2 color-herringbone stitch.
In this video tutorial, I will show a classic herringbone stitch pattern and also a herringbone pattern made of two loop balls of two colors and how to make a baby mat or blanket.
HOW TO KNIT HERRINGBONE STITCH WITH YOUR HANDS
This pattern is made for beginners - NO crocheting skill level is required to make it. If you don't understand any of my instructions, don't worry I am here for you.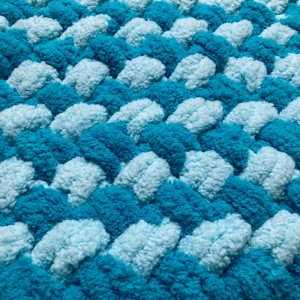 Stay in touch at Facebook, Instagram and Pinterest.
This pattern is made for beginners - only a basic skill level is required to make it. If you don't understand any of my instructions, don't worry I am here for you.
Have questions? Join the Facebook Group OR my Youtube Community!
I hope this article will be useful for you! If you have any additional questions, feel free to join my Facebook Group or Youtube Community. I created these groups for you to share pictures, ask questions, and help each other out.
You can find the step-by-step video tutorials below which will help you along if you prefer to watch video instruction rather than using a written pattern.
Don't forget to subscribe if you like me videos, it's FREE!
Let's start or PIN this idea to your Pinterest boards for later.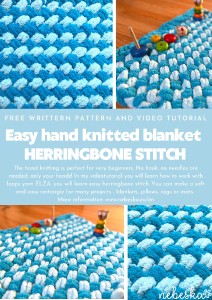 HAND KNITTED HERRINGBONE STITCH BLANKET
ELZA YARN - no needles, no hooks
https://www.vlnika.cz/z15017-prize-elza
Yarn ELZA has extra large loops for knitting blankets and mat or rugs.
It's a bulky, soft yarn with really big stitches - 5 cm / 2 inch.
ELZA is easy and quick to work with and the blanket or scarf is completed in a while.
From 1 ball, you can make a scarf about 2 meters long or a smaller blanket 50x50cm, from 2 balls a baby blanket or a blanket for a stroller.
Available in about 15 shades.
Weight: 350 g
Length: 12 m
Scissors
Sewing/Embroidery and yarn needle/tapestry needle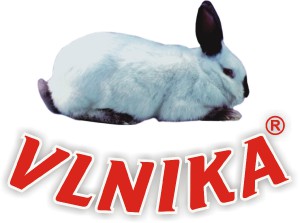 In the video tutorial, we will show you the entire process from the beginning, from the basic chain to the herringbone stitch and up to sewing.
We will create a children's play blanket from two balls.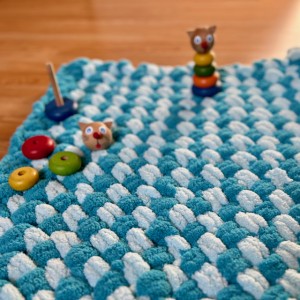 HAND KNITTED HERRINGBONE STITCH BLANKET INSTRUCTIONS
The size: 62 cm wide / 66 cm high
Make ONE big rectangle.
There are 30 foundation chains.
Each row has 30 stitches
There are 30 rows in total.
Work from bottom up.

See below the instructions STEP 1 till STEP 6.

STEP 1) COUNT FOUNDATION LOOPS
For this blanket, start with 30 loops.
If you would like have a larger blanket, you can start with more loops and then have more loops in each row.
We knit with our hands, no hook or needle is needed, it is quick and easy.

STEP 2) FOUNDATION CHAIN
Start working at beginning of yarn, make a knot, take the second loop from the knot and putt it in the first loop from back to front and pull it down.
Continue this way: working across the foundation loops, take the next loop in your working yarn and pass it through previous / just finished stitch from back to front. Continue with the next loop in the working yarn and the next loop in the foundation loop chain. Work your way all the way across.
Make 30 loops foundation chain of one color.
STEP 3) STOCKING STITCH FIRST ROW and NEXT ROWS
We work in rows. Don't turn your work.
The right side of your work is always facing you.
Start stocking in just finished stitch/ last stitch in foundation chain, take the next loop in the working yarn and pull it through the previous / just finished st, then continue by taking the next loop in your working yarn and putting it through the previous stitch/loop from back to front and pulling up.
We return to the beginning (to the "knot").
Do not forget that we have to always start to pass the first to the last stitch in the previous row.
So we always start the next row by knitting again to the last stitch from the previous row.
We now have 30 loops in a row.
Make sure you have 30 loops in each row.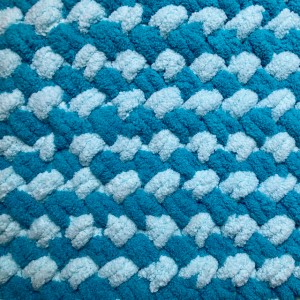 STEP 4) MAKE HERRINGBONE STITCH - IN ONE DIRECTION FROM LEFT TO RIGHT
Take the first 2 loops in the row and cross them. The second over the first loop.
Then pull the next loop in the working yarn into the second loop and then the next loop into the first stitch.
And this is how we continue to the end of the row: skip one, cross the next loop over the skipped one.
Pull a loop into the next one and then another loop into the skipped one.
Make sure that your loops are not twisted and that they always go in one direction.
STEP 5) MAKE THE CROSSES IN THE OPPOSITE DIRECTION FROM RIGHT TO LEFT
In the next row, make the crosses in the opposite direction.
Check the direction of the finished loops in the previous row.
Do not cross the first loop, pull the loop straight from back to front.
Cross next 2 loops, skip the first loop, pass the next one over the skipped loop, pull through the loop and pull the next loop in the working yarn through the skipped loop.
Do not cross the last loop again, pull the next loop in the working yarn from back to from through the last loop.
NOTE: every second row change the color. Work from right to left side with one color, then again from right to left side with another color.
Make sure in each row there are 30 stitches.
When you change colors, using another color on the looped yarn, always leave the other color loop on the side.
Pull loop always from back to front. Make sure loops are not twisted.
Repeat these STEP 4 and STEP 5 instructions.
STEP 6) LAST ROW ENDING = BIND OFF
Binding off with loop yarn can be done in either direction - right to left or left to right. However, you always have to start to bind off in the same direction as your last row (the end without the tail of loops).
Bind off the row by taking the 2nd loop and passing it through the first loop and pull. Then take the 3rd loop and pass it through the 2nd loop. Continue across the row slipping the next loop into the previous loop.
After inserting the last loop, carefully cut off tail of loops, make a knot. Thread the tail on a tapestry needle and weave the tail through the stitches on the wrong side.
The bind/binding off is completed.
Fasten off your work and hide the end.
The soft and cosy loop yarn blanket is finished.
I hope you enjoyed this tutorial and make a herringbone stitch blanket.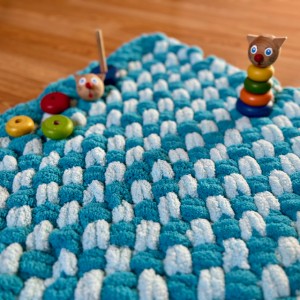 What's Next?
Pin this post: Save this tutorial to your Pinterest boards so that you can come back to it later.
Leave a comment: I love to hear your feedback. Tell me in the comments below!
Share on Instagram and Facebook: When you make this project, share it on social media and tag me @sonanebeska. I love to see what you make!
You can browse through all of my other FREE crochet HOME and DECO patterns:
https://www.nebeska.eu/en/articles/crochet-patterns-and-tutorials/home-decoration-and-holidays/
Explore More Crochet Patterns
If you love to crochet as much as I do, I think you'll love these other free crochet patterns for kids. ❤️
Show your love any day of the year and make lovely and sweet little things for your loved ones:
MORE PATTERNS?
You know me, I love making homemade things and creating beautiful gifts for my family and my friends. I also love TABLE PLACE MATS! If you do as well, you may would love to try these patterns as well:
♥♥♥
Have fun and let me know what you make. I would love to know how your project turns out.
Please don't forget to like and I really appreciate your comments.
If the pattern did not make sense to you, please don't hesitate to contact me, I am happy to help :)
If you like this pattern, please follow and share my projects on social networks as a THANK YOU and to help me to create new projects and patterns for you.
Thank you very much once again for your visit and see you soon!
♥♥♥