---
Crochet Scarf with Ruffles
2022-02-25
Here is a new scarf pattern here on the blog today – a lovely and a luxury scarf with cute ruffles.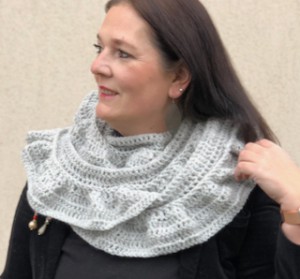 This Scarf with Ruffles crochet pattern is a super easy, beginner friendly project that works up faster than you'd even think! This free pattern is great for practicing double crochets. But you don't have to be a beginner to love this scarf. It's one of those patterns that's good for anyone whether you're making it for yourself, a family member, or selling it at a craft fair!
It's a super easy project and I chose my favorite color - light grey, almost silver color - that goes perfectly with everything.
So let me get to this super easy project for you.
VIDEO TUTORIAL
You can find the step-by-step video tutorials below which will help you along if you prefer to watch video instruction rather than using a written pattern. Don't forget to subscribe if you like me videos, it's FREE!
I hope you enjoy these crochet SCARF with RUFFLES pattern.
This pattern is made for very beginners - only a basic skill level is required to make it. If you don't understand any of my instructions, don't worry I am here for you - enter the comments at the end of this post.
A huge thanks to everyone who want to support my blog and download PDF paid pattern. Thank you very much, I really appreciate it and it helps me create more new video tutorials and patterns for you. Love you!
If you pin my patterns to your Favorites and share it on social media as a link, I will be able to share a lot more free crochet patterns for you all.

Stay in touch at Facebook, Instagram and Pinterest.
Let's start or PIN this idea to your Pinterest boards for later.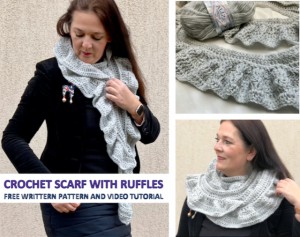 If you've been looking for more scarf patterns for you or for your friends and family, you may will love these patterns: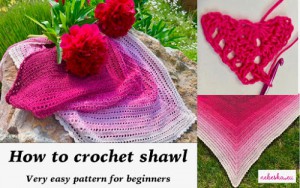 Crochet SCARF with RUFFLES Construction
In fact, this SCARF with RUFFLES works up so quickly that I bet you could have one of these finished within a few hours, depending on how long you decide to make it. Yes, even if you're a beginner!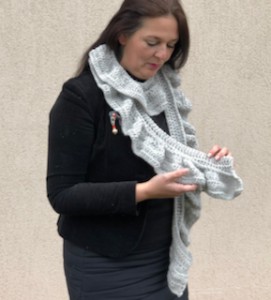 The main body of this scarf is created from 2 parts: one is a flat RECTANGLE and second one is a part with RUFFLES, there is a border between these 2 parts created from front post double crochets.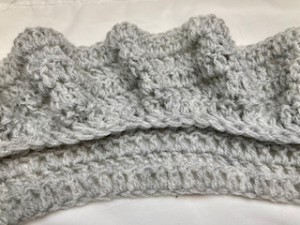 And I absolutely love this bright grey, silver color - I am so happy how it turned out!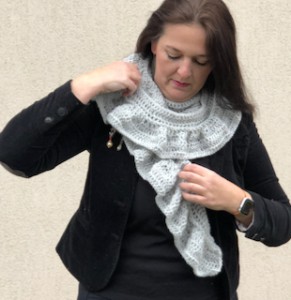 So let me now get started and tell you what you will need in order to crochet this amazing SCARF with RUFFLES.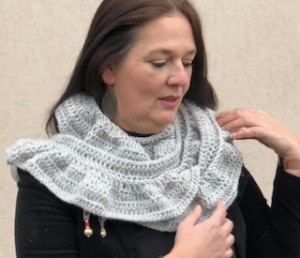 SCARF with RUFFLES DIRECTIONS
When trying to decide on a yarn for this SCARF with RUFFLES I knew I wanted something warm and soft. I chose ALIZE SUPERLANA YARN.
For this S/M size you will need:
YARN: ALIZE SUPERLANA, 100g, 570m, 75% acrylic, 25% cotton
1 - 1,5 ball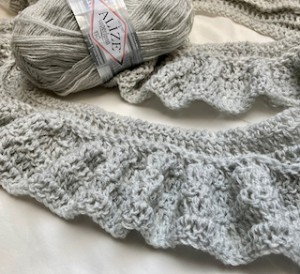 For this pattern you will need 5.0 crochet hook.
Size: M size - this can easily be adapted to a smaller size or bigger size just by reducing or increasing the number of rows.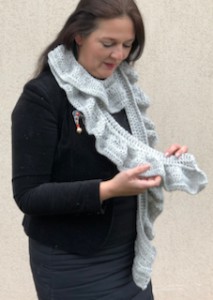 PATTERN NOTES:
1. The scarf starts as a long foundation chain. I would recommend you to choose the length of the scarf before start your scarf.
2. Work in rows, turn your work till you reach the end of row and chain 3.
3. Row starts with 3 CH = 1 DC
4. The direction shown are for M size but can be easily converted into bigger size or smaller size – just add more or less rows.
5. The scarf is 15 cm / 6 inch wide and 190 cm / 75 inch long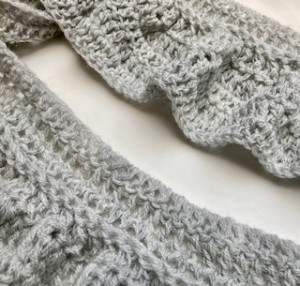 Level: Easy - for beginners
Abbreviations (US Crochet Terms):
SP - space
SlSt – slip stitch
CH/s – chain/s
DC - double crochet
FPDC - front post double crochet
BPDC - back post double crochet
SK - skip
T - turn
ST/s - stitch(es)
REP - repeat
YO – yarn over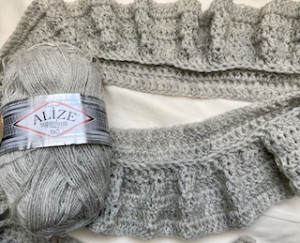 FRONT POST DOUBLE CROCHET AND BACK POST DOUBLE CROCHET STITCHES
front post double crochet (fpdc) and back post double crochet (bpdc)
Front and back post crochet stitches are used to create wonderful texture in crochet. Instead of making your stitch through the loops at the top of the stitch, you make it around the stitch. Everything else stays the same. The most challenging things about crochet post stitches are knowing where and how to insert the hook. There are front post stitches and back post stitches.
For front post double crochet stitches (fpdc): yarn over, insert your hook from front to back then from back to front around post of stitch indicated, yarn over, pull through stitch, then finish your double crochet as normal, yarn over, pull through 2 lps, yarn over, pull through last 2 lps
For back post double crochet stitches (bpdc): yarn over, you insert your hook from back to front then from front to back around post stitch indicated, yarn over, pull through stitch, then finish your double crochet as normal, yarn over, pull through 2 lps, yarn over, pull through last 2 lps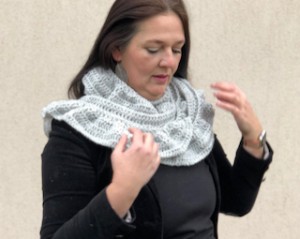 SCARF with RUFFLES
WRITTEN PATTERN
Crochet Hook 5.0 mm
Use 2 strands together
Foundation chain
Chain till you are satisfied with the length of your scarf.
Ch 200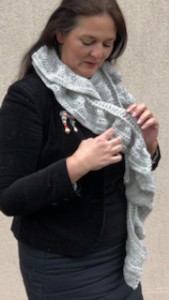 R1: ch3 (1dc), 1dc in 4th st from crochet hook, 1dc in each and every st till end of row, turn
R2: ch3 (1dc), 1dc in each and every st, turn
R3 - R4: Repeat R2
Add more row if you want to have your scarf wider
R5: front post double crochet border
R5: ch3 (1dc), 2fpdc in each st till end of row, turn
R6: ch3 (1dc), 1dc in next 3st, 2dc in next st, 1dc in next 4st, 2dc in next st, repeat till end of row, turn
R7: ch3 (1dc), 1dc in each and every st, turn
R8 - R9: Repeat R7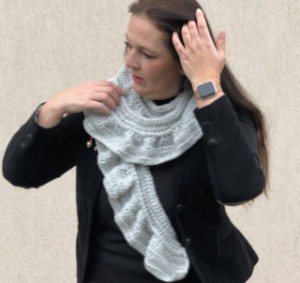 Cut the yarn. Then fasten off and wave in all ends.
You are all done with your amazing SCARF with RUFFLES!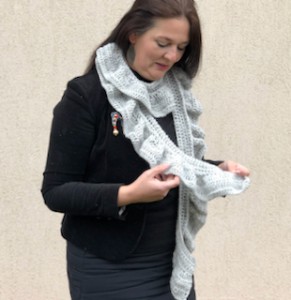 ♥♥♥
Have fun and let me know what you make. I would love to know how your project turns out.
Please don't forget to like and I really appreciate your comments.
If the pattern did not make sense to you, please don't hesitate to contact me, I am happy to help :)
If you like this pattern, please follow and share my projects on social networks as a THANK YOU and to help me to create new projects and patterns for you.
Thank you very much once again for your visit and see you soon!
♥♥♥