---
Shoulder cozy / Mobius wrap / Scarf / Headscarf – have all of them in one!
2020-09-20
Shoulder cozy / Mobius wrap / Scarf / Headscarf – have all of them in one!
The great things about this new pattern are: it's beginners friendly, half-day work, only one ball and multi-purpose item: a shoulder cozy, a mobius wrap, a scarf, shoulder shawl or a headscarf - it can be worn wherever you need some warmth. Which version do you like best? Moreover – there is a pattern for a flower button as a decoration.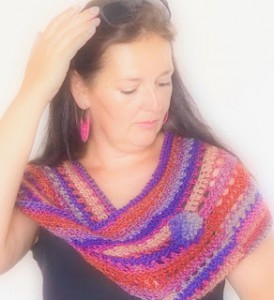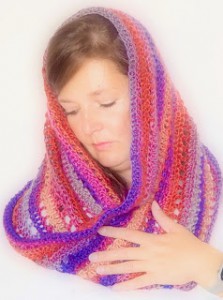 I can't even tell you how happy I am to be sharing this pattern with you! The pattern is available here below for free. It comes with a video guide as well.
VIDEO TUTORIAL
You can find the step-by-step video tutorials below which will help you along if you prefer to watch video instruction rather than using a written pattern. Don't forget to subscribe if you like me videos, it's FREE!
The free crochet pattern and video guide is easy to follow, you can make a shoulder cozy in every colour!
A huge thanks to everyone who want to support my blog and download PDF paid pattern. Thank you very much, I really appreciate it and it helps me create more new video tutorials and patterns for you. Love you!
Let's start or PIN this idea to your Pinterest boards for later.

You may would like to try this lovely pattern for easy crochet shawl:
Throw one on over a formal dress or keep it handy at work - no matter what, you'll look good and feel even better. The crochet pattern is absolutely perfect for beginners and so much fun to work on.
If you're new to the world of crochet and want to start slow, consider working on this free pattern idea.
What you think of this shoulder cozy? Will you make it for this autumn time?
This pattern is made for beginners - only a basic skill level is required to make it. If you don't understand any of my instructions, don't worry I am here for you - enter the comments at the end of this post.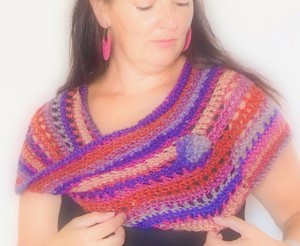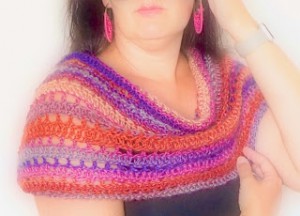 Directions
This Shoulder cozy is easy to make. Although it looks kind of complicated, this is one of the easiest shoulder cozy you will ever crochet. Plus you will learn a super easy way of joining a long chain into a ring without it getting twisted. The pattern uses only basic crochet stitches.
This scarf is crochet as a circle. To determine how long your starting chain should be, measure the diameter of your upper chest with your arms by your side and leave a little wiggle room.
The pattern was made with Red Heart Unforgettable
Absolutely loving this yarn! The colours are amazing and it is perfect to work with!
For this top M size you will need 1 skein of Red Heart Unforgettable: 100% akryl, 100g/250m
For this pattern you will need 5 and 3 mm hooks, yarn needle, one button.
Difficulty Level: Level 1 – Easy, for beginners
US crochet term:
SlSt – slip stitch
CH/s – chain/s
SC – simple crochet
DC - double crochet
SK - skip
T - turn
ST/s - stitch(es)
REP - repeat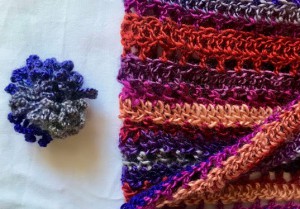 Pattern Notes
1) Before you start take a measurement. I started with 120 chains. Chain until you reach the measurement taken.
2) The direction shown are for M size but can be easily converted into bigger size or smaller size – just measure your starting chain around your shoulders if it fits snuggly then you can use this chain amount for your size.
3) A Ch 3 at beg of the row counts as dc throughout, a ch 2 at the beg row counts as hdc throughout, and a ch 1 at beg of row counts as sc throughout
4) Finish each round with sl st
5) TO WEAR Pull over head with twist at front and adjust top to cover shoulders as desired OR, pull down to waist with seam at center back, then pull the front of circle up over your head. Adjust piece to fit and fold back collar.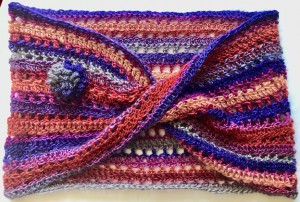 The pattern:
Foundation Chainless Double Crochet
For this shoulder shawl is important not to have tight foundation chain. We need stretchy chain row - this row will be in the middle of the shawl.
How I love to start with the Foundation Chainless Crochet! And the really great part about it, is that you create a foundation chain and first row of crochets all at once!
This technique will give you an elastic, stretchy row.
Pick up the 5mm hook and let's make a Double Crochet Chainless Foundation = 120 dc.
Follow Step By Step:
Begin with a slip knot on your crochet hook, then chain two.
Insert your hook into the V of the first chain stitch.
Yarn over and pull up loop (3 loops on hook
Yarn over and draw through 1 loop (1 chain made)
Yarn over and draw through 2 loops.
2 times—1 foundation double crochet with chain at bottom
Continue Working.
Start each repeating by inserting your hook into the foundation chain made previously. This will be the "V" shaped stitch on the left. When starting each repeating, insert your hook through these 2 yarns. Then repeat steps, for each stitch you want to create.
Do not slip stitch.
Make Mobius Twist = take the left side of your work (the side where the first dc is) being careful there are no twists, bring ends together and twist it down towards you, rotating the foundation chain from the bottom to the top. You will now treat the bottom loops of the foundation chain equal to top, "working" loops.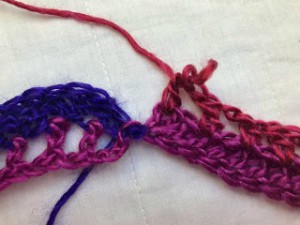 Round 2: sl st with the 1st ch, ch3 (counts as first dc), ch1, sk 1, rep: * 1dc in next st, ch1, sk1 across*, until the end of the round, sl st with the 3rd ch from beg
Your work will look like it has 2 new rows completed around the foundation chain, but really it is 1 continuous round.
Round 3: ch3 (counts as first dc, dc in each st across (including all ch1 sp) until you reach the ch3, sl st with the 3rd ch from beg (240 dc)
Rounds 4-15: Repeat Round 2 and Round 3, you can make less or more rounds until you reach your desired length.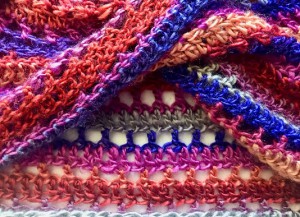 I used up 1 ball of yarn for my shoulder cozy – it is long enough to make a shawl, a shoulder shrug or a hood. Fasten off and hide all loose tails.
You are doing great! Only a flower as a decoration left and your wonderful shoulder cozy is ready to wear!
Flower pattern
Make a magic circle.
Sc into the circle + ch20, repeat 45x (sc into the circle + ch20) sl st, dont fasten off, leave a long tail
Pick up a yarn needle
Join the button
Fasten off, hide loose tail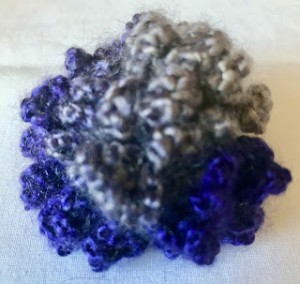 Now you know how to crochet this amazing shawl!
Instructions:
This pattern is written for Sizes M, if you need your size to be larger no worries, just remember you will need more yarn for larger sizes.
THE FINAL SIZE MEASUREMENT:
width (a circle): 110cm/43inch
height: 30cm/12inch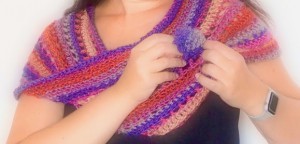 Want a printable copy of this pattern? Why not visit my Etsy shop and purchase the PDF with photo instructions. Not only does it mean you get your own copy of the pattern to print, you also support a small business and help me to keep making free patterns!
Have fun and let me know what you make. I would love to know how your project turns out.
Please don't forget to like and I really appreciate your comments.
If the pattern did not make sense to you, please don't hesitate to contact me, I am happy to help :)
If you like this pattern, please follow and share my projects on social networks as a THANK YOU and to help me to create new projects and patterns for you.
Thank you very much once again for your visit and see you soon!