---
Crochet Summer Top Liza
2020-07-27
Crochet Summer Top Liza - very easy and quick project
This Summer top is such an amazingly easy pattern. The top is made out of 2 rectangles sewing together. The pattern was made with Scarlet yarn. The pattern is available here for free. It comes with a video tutorial as well. Remember to follow me to receive updates and my latest new pattern publications.
The Summer Top is easy and simple and makes the project come alive very quickly!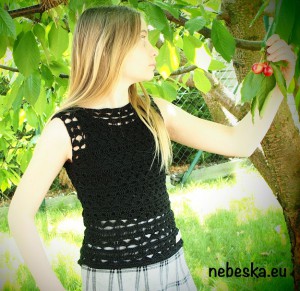 VIDEO TUTORIAL
You can find the step-by-step video tutorials below which will help you along if you prefer to watch video instruction rather than using a written pattern. Don't forget to subscribe if you like me videos, it's FREE!
A huge thanks to everyone who want to support my blog and download PDF paid pattern. Thank you very much, I really appreciate it and it helps me create more new video tutorials and patterns for you. Love you!
Let's start or PIN this idea to your Pinterest boards for later.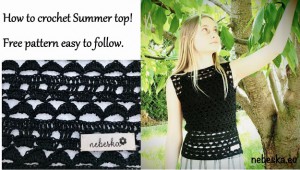 The Summer Top is made with only basic crochet stitches – absolutely perfect for beginners! So if you know how to make double crochet, chains and simple crochet, then you can make this Summer Top!
This Top is easy to make and can be completed in 2 days.
The direction shown are for XS/S size. For XS/S size you will need 1,5 skeins of Scarlet, for M size I used only 2 skeins.
Yarn: Scarlet, (100% cotton), 100g = 290m
Recommended hook: 3-4 mm
I used hook 3,5 mm for this project.
Difficulty Level: Level 1 – Easy, for beginners
US crochet term:
SlSt – slip stitch
CH/s – chain/s
SC – simple crochet
HDC – half double crochet
DC - double crochet
SK - skip
T - turn
ST/s - stitch(es)
REP - repeat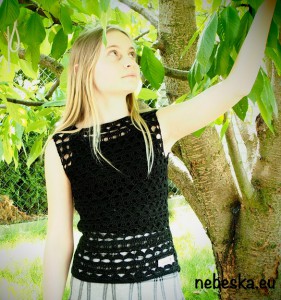 Pattern Notes
1) Ch 3 at beg of row counts as dc throughout.
2) You need 6 chains for one "cluster"
3) For shown instructions I made 3 basic clusters = (3 x 6 chains) 18 chains for beg.
4) For size XS use 72 chains (12 x 6 chains)
5) The below instructions make 1 rectangle. Make in total 2 rectangles.
WRITTEN INSTRUCTIONS FOR THE LIZA SUMMER TOP:
1st row: ch 72 (a sequence of 12 basic clusters), ch 3 (for 1 dc), continue dc 1 into each chains (ch) = 72 dc, turn
2nd row: sc, repeat ch 6, sk 5 st, sc, turn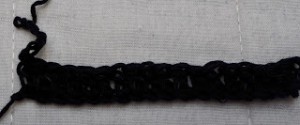 3nd row: rep into each chain space (one cluster): sc 1, hdc 1, dc 5, hdc 1, sc, until the last chain space, you will make 12 archs, turn

4th row: ch 3, ch 3, 1 sc (into the 3rd dc from the previous row = you are the middle of the arc),
repeat ch 5, 1 sc in the 3rd dc of next arc, rep until the last arc, then ch 3, dc 1 in the last st, turn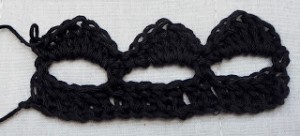 5th row: ch 3, rep 1 dc into each ch, until the last, turn = 72 dc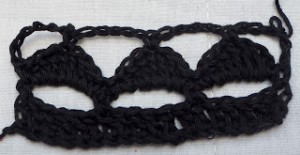 6th row: ch 3, 2 dc in the 2nd and 3rd st, ch 2, skip 2 st, rep * 3 dc in the next sts, ch 2, sk 2 st, repeat from *, turn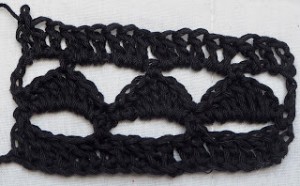 Well done my friends! The pattern is alive!
Then continue and repeat the pattern.
7th row = 1nd row = ch 3, continue 1 dc into each chain (ch) = 72 dc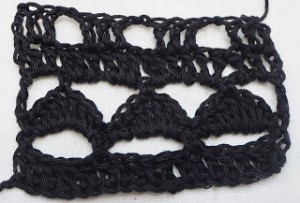 8th row = 2nd row
9th row = 3rd row etc.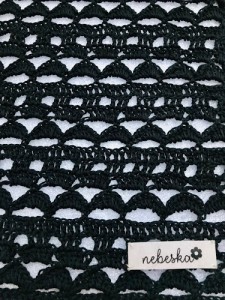 FINAL XS SIZE:
330 mm / 13 inch (wides width) x 470 mm / 18,5 inch (long side)
Make in total 2 rectangles.
FINISHING
Sew shoulders – about 12 chains all together
Sew sides – 2/3 of the rectangles.
That it is! Weave your ends. Now you know how to crochet a wonderful summer top!
Want a printable copy of this pattern? Why not visit my Etsy shop and purchase the PDF with photo instructions. Not only does it mean you get your own copy of the pattern to print, you also support a small business and help me to keep making free patterns!
Have fun and let me know what you make. I would love to know how your project turns out.
Please don't forget to like and I really appreciate your comments.
If the pattern did not make sense to you, please don't hesitate to contact me, I am happy to help :)
If you like this pattern, please follow and share my projects on social networks as a THANK YOU and to help me to create new projects and patterns for you.
Thank you very much once again for your visit and see you soon!