---
April Monthly Yarn Inspiration and Loops Yarns for Absolutely Beginners
2023-04-02
HELLO MY CROCHET FRIENDS!
Welcome to my blog and to the very SPRING month APRIL!
I am here again with new inspiration from my visit in my favorite local shop Vlnika.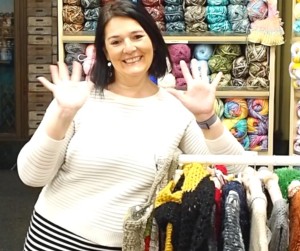 This monthly topic will be really interesting! The topic that I chose for you is: loop's yarns.
Last month we talked more about baskets with a wooden bottom, we had a workshop together and it was absolutely great! Thank you so much for your lovely comments.
And there is a giveway again - a gift for one of you as always! One skein of the yarn I show you in my video report.
So today it will be loop yarns topic. I will again show you what yarns, what colors, what materials are available here in Prague shop. And then I will show you how to work with loop's yarns.
You can use these yarns basically all year round, they are fun to make and most importantly even very beginners who have no experience with crocheting or knitting can enjoy it. Even children - girls and boys - can create from loops yarns, and they will practice their fingers and a little counting during the process.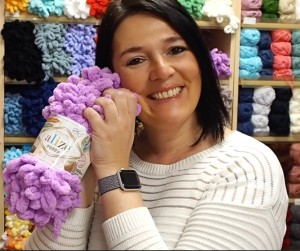 You don't need needles for knitting - you just knit by hands.
And I'll definitely be checking out a few more yarns!
Do not hesitate to write a comment under the video about your experience with the presented yarns or which of them you would like to try and what you would crochet or what colors you would choose and for which model. I am looking forward to all your replies and comments.
I will show these skeins:
ALIZE PUFFY
Soft, chenille yarn with relatively large loops.
It is available in a classic one-single-color version and in a version with colored "rainbow" fibers.

There are over 50 different colors of one colored balls, so you can beautifully make one colored projects or combine colors and make a beautiful mosaic patterns.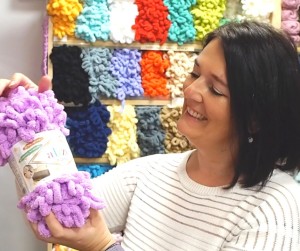 The ALIZE PUFFY COLOR yarn has beautifully aligned colors combinations, you can choose from a wide range from soft neutral colors to very bright colors, there are perhaps over 20 different color combinations available.
Both ALIZE PUFFY and ALIZE PUFFY COLOR are great yarns for knitting classic rectangular projects such as blankets or shawls and others. You can quickly and easily make a sweater, vest, poncho, bathrobe or even a cowl and neckwarmer!
You can make a neckwarmer or a shorter scarf from 1 ball. Knit a longer scarf from 2 balls.
Knit a 100x100 cm blanket from 5 balls. From 3 balls you will make a vest and for Sweater you will need 4 balls.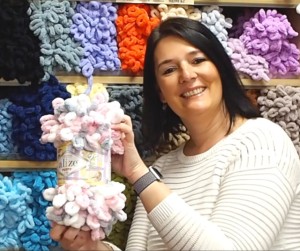 ALIZE PUFFY
Weight: 100g
Length in one ball: 9 m
https://www.vlnika.cz/z11642-prize-puffy
ALIZE PUFFY COLOR
Weight: 100g
Length in one ball: 9 m
https://www.vlnika.cz/z12024-prize-puffy-color
ALIZE PUFFY's sisters are ALIZE PUFFY FINE yarns:
https://www.vlnika.cz/z13754-prize-puffy-fine
ALIZE PUFFY FINE
It is a soft, chenille yarn with slightly smaller loops than PUFFY.
The resulting product is softer and smoother.
The creation is a little more laborious and not so fast, but the result is worth the effort.
If you're just starting out, you can try a blanket, shawl, scarf again. You can also try hats or berets. Handbags and bags are also beautiful made with this yarn.
For babies, you can make soft fluffy sleeping bags.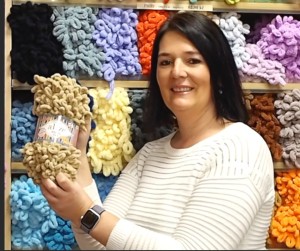 You can make one scarf from one ball. Or make a 100x100 cm blanket from 3 balls.
This yarn is available in many classic colors, more then 20 colors awaiting for you. And also colored rainbow versions, about 10 beautiful versions.

ALIZE PUFFY FINE COLOR
Weight: 100g
Length in one ball: 14 m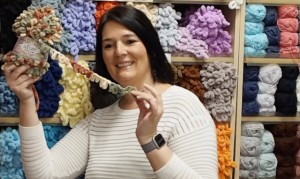 ALIZE PUFFY MORE
https://www.vlnika.cz/z17040-prize-puffy-more
This soft, chenille yarn differs from the previous two brands, as there are always 2 colored loops in the position of one chain.
So you will work with two colored loops, which will create an original double-sided effect.
The final project result is a bit thicker than the projects made with ALIZE PUFFY FINE.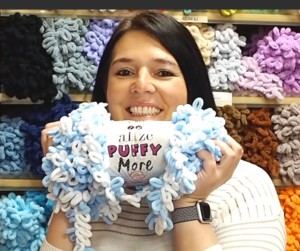 This yarn allows you to apply various mosaic and pixel patterns to your products, which you can either create by yourself or be inspired by the many already designed patterns.
Weight: 150g
Length in one ball: 11.5 m
I used this yarn some time ago for a pajamas cover or a pillow cover and it was a great success!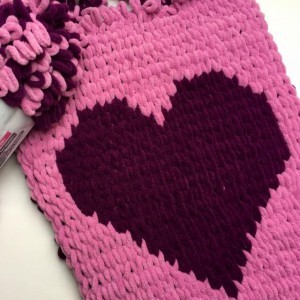 You can find the video tutorial here:
I'm really looking forward to showing you how to work with this loops yarn, how to create a pattern and how to create an interesting projects with an original pattern!
And the last loops yarn I discover is ELZA.
And the ELZA yarn from VLNIKA has extra large loops for knitting blankets and pillows.
It's a bulky, soft yarn with really big loops - about 5 cm.
ELZA is easy and quick to work with and the blanket or pillow is ready immediately.
1 ball is enough for a scarf about 2 meters long or a smaller blanket 50x50cm.
2 balls are enough for a baby blanket.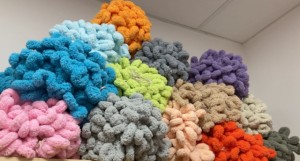 This yarn is available in about 15 shades.
Weight: 350 g
Length in one ball: 12 m
ICE YARNS COTTON ROYAL LOLLIPOP
I also peeked into the shelf next to the loop yarns and saw the interesting, completely fabulous toned yarn ICE YARNS COTTON ROYAL LOLLIPOP.
The basic color is always light - white, cream, light green, light blue, and then there are pieces of different colored yarns added to it.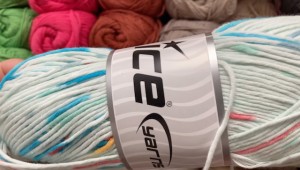 Weight: 100g
Length in one ball: 210 m
Composition: 100% cotton
This yarn will excite you at the first touch - it is a very fine, soft yarn, 100% cotton.
I think it will be perfect for spring and summer projects and each model will be absolutely unique.
There are about 10 versions available and it won't be easy to decide "which one" to choose!
https://www.vlnika.cz/z20170-prize-cotton-royal-lollipop
ALIZE BABY BEST
And the last yarn I chose is the ALIZE BABY BEST yarn.
https://www.vlnika.cz/z16232-prize-baby-best
Weight: 100g
Length in one ball: 240 m
Composition: 90% acrylic and 10% bamboo
Very fine and soft yarn, it is a mixture of acrylic and bamboo with anti-pilling treatment.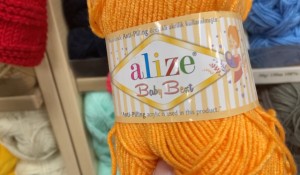 I really needed this yarn! In one of the previous video tutorials I showed you how to crochet a mini bunny. I need to make a soft orange carrot as wrap for the bunny.
Do you remember my mini bunny?
This ALIZE BABY BEST yarn has beautiful bright and also gently soft colors, about 20 colors shadows are available.
It is great for children projects crocheting or to crocheted toys for children.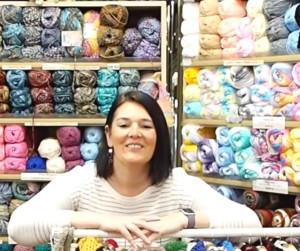 WOW! There are so many skeins in the shop! And I so excited to crochet with all of them soon!
Feel free to write a comment during whole April right below the video and get one of each!
I am looking forward to all your notes!
Please check my Facebook page to see who will receive the gift, the ball of yarn. The winners will announced next month at the beginning of May: https://www.facebook.com/nebeskacreative​
Let's start or PIN this idea to your Pinterest boards for later.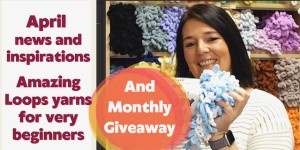 Stay in touch at Facebook, Instagram and Pinterest.
The patterns are made for beginners - only a basic skill level is required to make it. If you don't understand any of my instructions, don't worry I am here for you.
Have questions? Join the Facebook Group!
I hope this article will be useful for you! If you have any additional questions, feel free to join my Facebook Group. I created this group for you to share pictures, ask questions, and help each other out.
Have you missed some of my Video monthly report news, tips and inspiration?
Check my Youtube Playlist "Crochet with Love - inspiration, giveaways and fun! Enjoy!"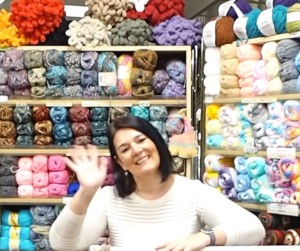 MORE PATTERNS?
You know me, I love making poncho and this transition period between SPRING and SUMMER time is perfect for wearing ponchos.
If you do as well, you may would love to try these patterns as well:
Explore More Crochet Patterns
If you love to crochet as much as I do, I think you'll love these other free crochet patterns for EASTER ❤️
Show your love any day of the year and make lovely and sweet little things for your loved ones:
What's Next?
Pin this post: Save this tutorial to your Pinterest boards so that you can come back to it later.
Leave a comment: I love to hear your feedback. Tell me in the comments below!
Share on Instagram and Facebook: When you make this project, share it on social media and tag me @sonanebeska. I love to see what you make!
♥♥♥
Have fun and let me know what you make. I would love to know how your project turns out.
Please don't forget to like and I really appreciate your comments.
If the pattern did not make sense to you, please don't hesitate to contact me, I am happy to help :)
If you like this pattern, please follow and share my projects on social networks as a THANK YOU and to help me to create new projects and patterns for you.
Thank you very much once again for your visit and see you soon!
♥♥♥