---
Holiday crocheting and a trip to find new skeins! August news and inspiration!
2023-08-01
HELLO MY CROCHET FRIENDS!
Welcome to my blog and welcome to AUGUST!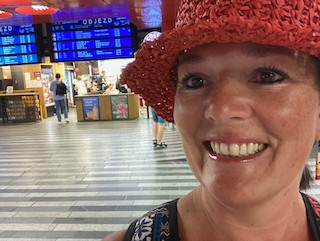 Just like every month, I am here again with new inspiration from a visit to my favorite shop Vlnika. This time I took advantage of the holiday period and made a trip to the store in Jindřichův Hradec, where I also met the owner, Mrs. Ivana Albrechtová and her husband, Mr. Arnošt. Mrs. Ivana has my great admiration for the dedication with which she devotes herself to her work, taking care of her customers and her employees, and of course her stores, which are always perfectly stocked and you can always discover something new there every time. Whether a person buys or goes for advice or admires the abundance of soft yarn, it is a pleasure to visit the shop.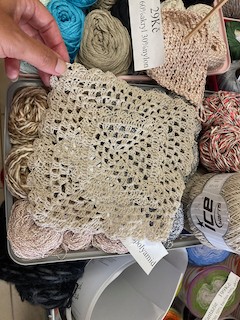 I will certainly remember this nice, pleasant and inspiring meeting for a long time. I found so many new thing and I discovered them not only in the wonderfully stocked store in Jindřichův Hradec, but also in the nearby warehouse. I had the privilege of taking a look at the warehouse and I won't reveal too much, there is a lot of new stuff coming up for autumn and winter, and you and I really have a lot to look forward to.
It will not only be new yarns, materials and colors, but a lot of accessories and gadgets that can come in handy when crocheting and knitting.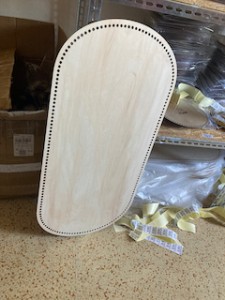 I'll admit that I didn't get any new yarn this time, except for the Xena yarn I was missing and needed a ball of to crochet the utra-crop-top. The tutorial for this non-traditional sweater will be available during August so that you can use it for the fall time. You very probably know it, the type of modern sweater with extra long sleeves and an extra short body that doesn't even cover your breasts. You know, your girls MUST have it for the new school season.
I decided that I needed to use up the yarn I had accumulated at home to make room for new balls for autumn and winter crocheting. Although summer is in full swing and you may be a little worried about the high temperatures, it is already time to think about the fact that the cold days will come and it will be time again for crochet vests, cardigans, hats and headbands.
And school will start again, and children will need not only things to wear, but also other accessories, bags and backpacks - and why not crocheted ones.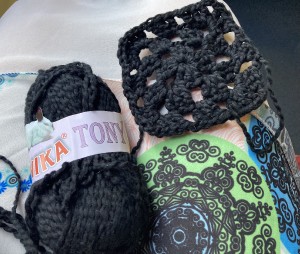 In the store, I will show a bit of everything, from classic standard yarns that are on permanent offer, to non-traditional and interesting yarns. There is a lot of already crocheted and knitted clothing, toys and accessories - these could be not only as an inspiration for everyone, but also they could be as a nice gift.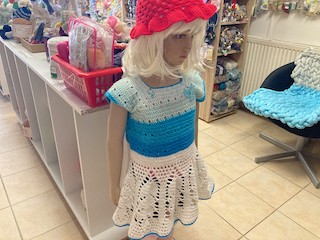 And on the way to the train I took a ball of Tony yarn, from which I am crocheting a simple vest made of classic granny squares.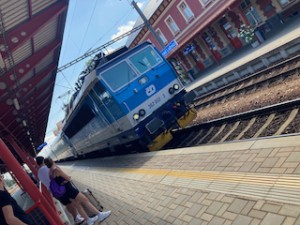 And what do you think? I ran out of the skein on the way from Prague to Jindřichův Hradec.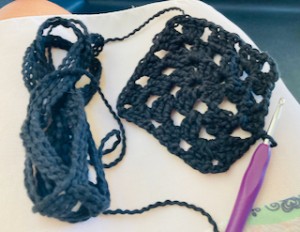 Do you know what the most viewed tutorials are in recent days? TOP tutorials in summer are crocheted hats, so we'll show you the ones you're most interested in. Crocheting a great summer hat that fits perfectly and holds its shape beautifully is quick and easy! I have included a new paper yarn hat tutorial, I hope you enjoy it.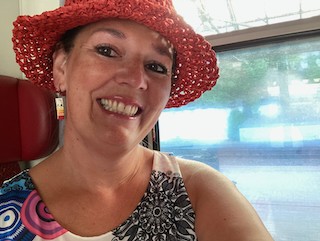 I have several topics from you that you wrote that you would be interested in and I will gradually include them in the instructions. If you have any ideas or recommendations, please do not hesitate to write me!
And there is a giveway again - a gift for one of you as always! One Ball for free to try! This time the balls were prepared for you directly by Mrs. Albrechtová and I believe they will make you happy.
Do not hesitate, take a look at the report and write in the comments below the video what your experience is with the presented yarns or which yarn you would like to try and what you would crochet or what colors you would choose and what model you are planning on.
I look forward to all your reactions and comments, you always make me happy and happy with your reactions!
WOW! There are so many skeins in the shop! And I so excited to crochet with all of them soon!
Feel free to write a comment during whole AUGUST right below the video and get one of each!
I am looking forward to all your notes!
Please check my Facebook page to see who will receive the gift, the ball of yarn. The winners will announced next month at the beginning of May: https://www.facebook.com/nebeskacreative​
PIN this idea to your Pinterest boards for later.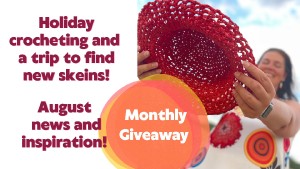 Stay in touch at Facebook, Instagram and Pinterest.
The patterns are made for beginners - only a basic skill level is required to make it. If you don't understand any of my instructions, don't worry I am here for you.
Have questions? Join the Facebook Group!
I hope this article will be useful for you! If you have any additional questions, feel free to join my Facebook Group. I created this group for you to share pictures, ask questions, and help each other out.
Have you missed some of my Video monthly report news, tips and inspiration?
Check my Youtube Playlist "Crochet with Love - inspiration, giveaways and fun! Enjoy!"
What's Next?
Pin this post: Save this tutorial to your Pinterest boards so that you can come back to it later.
Leave a comment: I love to hear your feedback. Tell me in the comments below!
Share on Instagram and Facebook: When you make this project, share it on social media and tag me @sonanebeska. I love to see what you make!
MORE PATTERNS?
You know me, I love making dresses and tunics for the SUMMER.
If you do as well, you may would love to try these patterns as well:
Explore More Crochet Patterns
If you love to crochet as much as I do, I think you'll love these other free crochet patterns for SUMMER HATS ❤️
The "SQUARES" crocheting:
♥♥♥
Have fun and let me know what you make. I would love to know how your project turns out.
Please don't forget to like and I really appreciate your comments.
If the pattern did not make sense to you, please don't hesitate to contact me, I am happy to help :)
If you like this pattern, please follow and share my projects on social networks as a THANK YOU and to help me to create new projects and patterns for you.
Thank you very much once again for your visit and see you soon!
♥♥♥