---
November inspiration for Christmas socks, slippers, booties, as well as accessories and gifts
2023-11-02
HELLO MY CROCHET FRIENDS!
Welcome to my blog and also to the new monthly report for the month November.
A lot happened again in October, and I'm glad that I managed to crochet and visit the Vlnika store in the busy schedule, and I'm here again with a new reportage and, I hope, with a bit inspiration for Christmas gifts.
SLIPPER DAY
Do you know Slipper day? Slipper day is the day when you put on your slippers in the morning on your way to work or school! By doing so, you help spread awareness of mobile hospice care and show that you support its purpose. Every year, we let the people around us know that mobile hospices help our loved ones to live with dignity at home until the end. Slippers symbolize the safety and comfort of the home.
This year we had Slipper Day on 11th of October 2023 and I had wanted to get crocheted slippers for myself and my colleagues, and I found out that I had given away all the pieces and had to start making new pairs. And it was also one of the impulses for visiting Vlnika and searching for new yarns.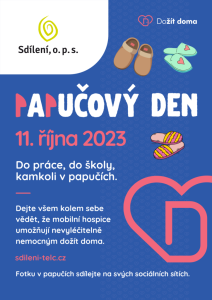 SOCKS, SLIPPERS, BOOTIES
My family and my friends and colleagues often write to Santa about crocheted booties, slippers or socks.
And I always try to please them with some new patterns, styles or ideas.
That's why when I visited Vlnika shore, I focused on sock yarn and chenille yarn, from which I like to use for crocheting booties and slippers, and I think I found a lot of them!
Vlnika shop surprised me again with an amazing offer, colors, full shelves and new yarns.
In addition to socks, I also wanted to choose yarn for crocheted Christmas decorations, such little things and joys that are suitable for giving to colleagues at work or friends.
INSPIRING VISIT IN ELPIDA - TALK ABOUT "GRANDMA'S SOCKS" PROJECT WITH MRS JOANNA
Thanks to my work in the non-profit sector, I have been interested in the work and projects of ELPIDA for a long time. Who is ELPIDA:
Elpida is a non-profit organization that has been supporting seniors in an active life since 2002. It runs 2 educational centers in Prague, the nationwide free telephone line for seniors 800 200 007, publishes the VITAL magazine, has the women's choir Elpida and is behind the Grandma's Socks project, records the OLD's COOL podcast, organizes exhibitions, workshops and much more. It creates opportunities for active and fulfilled aging and we accompany seniors through challenging life situations.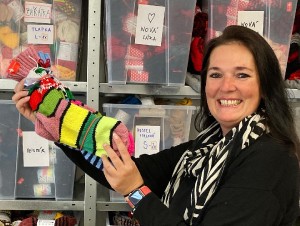 And it is the Grandma's Socks project that I would like to present to you in my report. I filled my bag with the left-over balls, made an appointment with the wonderful lady Joanna Mazal and spent a pleasant morning at their office in Smíchov, where the socks are knitted, sorted, packed and shipped.
You can find more about this project here - you can send balls that you have at home as well as new ones. Or join the knitting grandmothers, of whom there are now more than 200, and knit socks according to your own or according to already designed patterns, and thus help a good project.

https://shop.elpida.cz/celonarodni-sbirka-klubek/
Or buy Grandma's Socks, which give work and the joy of feeling useful to more than 200 knitters. By buying them, you will also support other seniors from the Elpida Center.
CROCHETING TOGETHER
I really like crocheting with a bunch of enthusiasts like me, so I came to the meeting of the McHáček group and left with my head full of new ideas. All the girls crochet and knit wonderful things, Miss Jarka even brought us to show us how to work with pure wool, how to weave and wind.
I will send you the next event again and you can join. Or take a look at the group on Facebook: https://www.facebook.com/groups/1142873502919614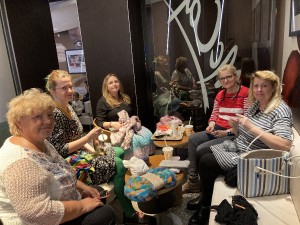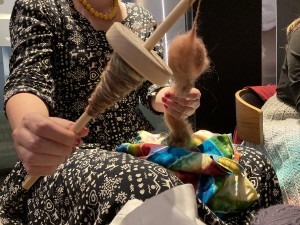 OCTOBER's MOST POPUPLAR VIDEO TUTORIALS!
Do you know what the most popular tutorial is in the month of October? The absolute BEST is a crocheted simple neckwarmer cowl for absolute beginners.
I am so happy that you love my patterns and video tutorials, so I prepared even easier video tutorial for alize puff neckwarmer ribbed cowl:
Crochet GRANNY TURTLENECK PONCHO, really WARM!
Cute ANGELS Crochet little super easy and Christmas angels for beginners

WORKSHOP - LET'S CROCHET A CHRISTMAS WREATH AND DECORATIONS
Organizing workshops is a great inspiration for me and I am happy to meet and talk with you and enjoy your products. That autumn workshop was a great success and I am thinking about another one in November. How about we start crocheting a Christmas Wreath? They already have polystyrene bodies in stock in Vlnice :) What do you think? Let me know and I'll look forward to it!
I have several other topics from you that you wrote that you would be interested in and I will gradually include them in the instructions. If you have any ideas or recommendations, please do not hesitate to write me again!
GIVEAWAY!
And there is a giveway again - a gift for one of you as always! One Ball for free to try! This time the balls were prepared for you directly by Mrs. Albrechtová and I believe they will make you happy.
Do not hesitate, take a look at the report and write in the comments below the video what your experience is with the presented yarns or which yarn you would like to try and what you would crochet or what colors you would choose and what model you are planning on.

I look forward to all your reactions and comments, you always make me happy and happy with your reactions!
YARNS
Samet Soft
1 ball: 100g / 100 m / 100 % polyester
https://www.vlnika.cz/z14602-prize-samet-soft
Panda Yarn
https://www.vlnika.com/z13533-panda-yarn
Ball: 100 g / 66 m / 100 % polyester
Superwash Artisan
https://www.vlnika.cz/z23667-prize-superwash-artisan
Ball: 100g / 420 m, 25 % polyamid + 75 % wool
Superwash Comfort Socks
https://www.vlnika.cz/z19249-prize-superwash-comfort-socks
Ball: 100 g / 420 m, 25 % polyamid + 75 % wool
Colorway Sock
https://www.vlnika.cz/z23129-prize-colorway-sock
Ball: 100 g / 400 m, 25 % polyamid + 75 % wool
Arabela
https://www.vlnika.cz/z2091-prize-arabela
Ball: 100 g / 80 g / 100 % polyester, chenille yarn
Softy Plus
https://www.vlnika.cz/z23285-prize-softy-plus
Ball: 100 g / 120 m / 100 % mikropolyester
Olef
https://www.vlnika.cz/z23098-prize-olef
Ball: 100 g / 300 m / 100% polyester
Macrome Lurex Mocha
https://www.vlnika.cz/z15302-prize-macrome-lurex-mocha
Ball: 250 g / 200 m / 60 % cotton + 30 % polyester + 10 % lurexWOW! There are so many skeins in the shop! And I so excited to crochet with all of them soon!
Feel free to write a comment during whole NOVEMBER right below the video and get one of each!
I am looking forward to all your notes!
Please check my Facebook page to see who will receive the gift, the ball of yarn. The winners will announced next month at the beginning of November: https://www.facebook.com/nebeskacreative​
PIN this idea to your Pinterest boards for later.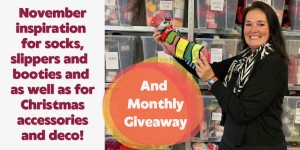 Stay in touch at Facebook, Instagram and Pinterest.
The patterns are made for beginners - only a basic skill level is required to make it. If you don't understand any of my instructions, don't worry I am here for you.
Have questions? Join the Facebook Group!
I hope this article will be useful for you! If you have any additional questions, feel free to join my Facebook Group. I created this group for you to share pictures, ask questions, and help each other out.
Have you missed some of my Video monthly report news, tips and inspiration?
Check my Youtube Playlist "Crochet with Love - inspiration, giveaways and fun! Enjoy!"
What's Next?
Pin this post: Save this tutorial to your Pinterest boards so that you can come back to it later.
Leave a comment: I love to hear your feedback. Tell me in the comments below!
Share on Instagram and Facebook: When you make this project, share it on social media and tag me @sonanebeska. I love to see what you make!
MORE PATTERNS?
You know me, I love making PONCHOS and CARDIGANS.
If you do as well, you may would love to try these patterns as well:
Explore More Crochet Patterns
If you love to crochet as much as I do, I think you'll love these other free crochet patterns for HATS AND BEANIES AND EARWARMERS ❤️
♥♥♥
Have fun and let me know what you make. I would love to know how your project turns out.
Please don't forget to like and I really appreciate your comments.
If the pattern did not make sense to you, please don't hesitate to contact me, I am happy to help :)
If you like this pattern, please follow and share my projects on social networks as a THANK YOU and to help me to create new projects and patterns for you.
Thank you very much once again for your visit and see you soon!
♥♥♥