---
October Inspiration and news. Fall workshop, decorations and preparing for Christmas!
2023-10-02
HELLO MY CROCHET FRIENDS!
Welcome to my blog and also to the new monthly report for the month October.
A lot happened in September and I am glad that I can convey at least part of it to you in this report. I hope that this report will be a new inspiration for you again, I have news and samples for you from a visit to my favorite shop Vlnika.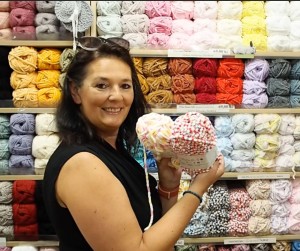 I was in the store several times this month because, in addition to shooting, I was also preparing and arranging a workshop, and we managed this workshop wonderfully.
There is a new arrangement of yarns in the shop and right at the entrance I was attracted by a whole new shelf with Ice Yarn yarns, which I like for their uniqueness. I've been looking around the shop mainly for shaggy and furry and velvety yarns and I think I found a lot of them! Vlnika surprised me not only with interesting yarns, but it is great that in the store you can also find other accessories and gadgets that can be useful for crocheting and knitting. Have you ever tried crochet sole shoes? If not, now we have the opportunity to purchase them in white and black versions.
I also have ready for you shots from the autumn workshop, where we made hedgehogs as a group of crochet enthusiasts. The hedgehogs turned out absolutely amazing and you will be surprised how original and completely unique each one is! I am preparing a separate video guide and recommendations for the hedgehogs, and it will be released soon.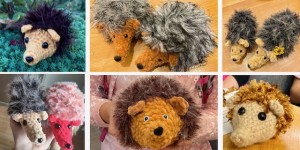 I also attended an interesting lecture about getting to know the materials we wear - linen, acrylic, wool, silk and cotton, learned a lot of information about their properties and quality and tried a sensory test.
The lecture was on the Prague Swap - the highest rooftop swap - and was organized by Purply company.
If you are interested in more, take a look here: https://www.purply.cz/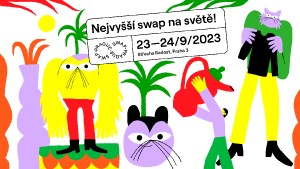 And we will start preparing for Christmas! What do you think? I started a beautiful and relatively large angel, and the experience with its production might come in handy.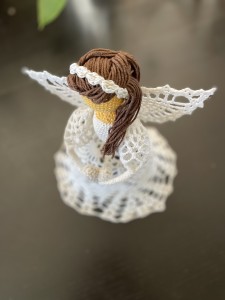 SEPTEMBER'S MOST POPUPLAR VIDEO TUTORIALS!
Do you know what the most popular tutorial is in the month of September? The absolute BEST is a crocheted simple neckwarmer for absolute beginners.
Crochet GRANNY TURTLENECK PONCHO, really WARM!
How to crochet Happy Fall / Autumn Leaves: coasters, table mats, table runner.
So it is clear that you too have started crocheting things for colder days and I will not be left behind.
I have already started crocheting a few autumn things!
WORKSHOP - LET'S CROCHET HEDGEHOGS
Organizing workshops is a great inspiration for me and I am happy that the autumn one was a success, that you liked it and I hope to see you again next time.
I would like to organize a workshop in November, where we will start crocheting small Christmas ornaments. Who will join us?
I have several other topics from you that you wrote that you would be interested in and I will gradually include them in the instructions. If you have any ideas or recommendations, please do not hesitate to write me again!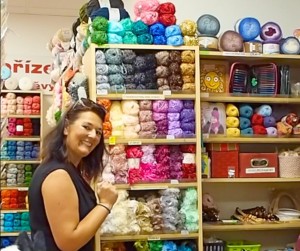 GIVEAWAY!
And there is a giveway again - a gift for one of you as always! One Ball for free to try! This time the balls were prepared for you directly by Mrs. Albrechtová and I believe they will make you happy.
Do not hesitate, take a look at the report and write in the comments below the video what your experience is with the presented yarns or which yarn you would like to try and what you would crochet or what colors you would choose and what model you are planning on.
I look forward to all your reactions and comments, you always make me happy and happy with your reactions!
YARNS
Samur
1 Ball: 50g, 40 m / 67 % polyamid + 33 % polyester
https://www.vlnika.cz/z11979-prize-samur
Yumos
1 ball: 100g / 140 m / 100 % polyester
https://www.vlnika.cz/z11924-prize-yumos
Samet Soft
1 ball: 100g / 100 m / 100 % polyester
https://www.vlnika.cz/z14602-prize-samet-soft

Simli Kristal
1 ball: 100g / 200 m / 25 % metalic thread + 75 % polyester
https://www.vlnika.cz/z11832-prize-simli-kristal
Puffy Fine ICE
Ball: 50 g / 250 m / 100 % polyamid
https://www.vlnika.cz/z23168-prize-puffy-fine-ice
Techno Bulky
Ball: 50 g / 55 m / 100 % polyamid
https://www.vlnika.cz/z22465-prize-techno-bulky
Techno
Ball: 50 g / 150 m / 100 % polyamid
https://www.vlnika.cz/z23156-prize-techno
Polar Bear
ball: 100 g / 90 m / 100 % polyamid
https://www.vlnika.cz/z10293-prize-polar-bear
Panda Yarn
https://www.vlnika.com/z13533-panda-yarn
Ball: 100 g / 66 m / 100 % polyester
WOW! There are so many skeins in the shop! And I so excited to crochet with all of them soon!
Feel free to write a comment during whole OCTOBER right below the video and get one of each!
I am looking forward to all your notes!
Please check my Facebook page to see who will receive the gift, the ball of yarn. The winners will announced next month at the beginning of November: https://www.facebook.com/nebeskacreative​
PIN this idea to your Pinterest boards for later.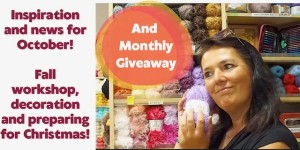 Stay in touch at Facebook, Instagram and Pinterest.
The patterns are made for beginners - only a basic skill level is required to make it. If you don't understand any of my instructions, don't worry I am here for you.
Have questions? Join the Facebook Group!
I hope this article will be useful for you! If you have any additional questions, feel free to join my Facebook Group. I created this group for you to share pictures, ask questions, and help each other out.
Have you missed some of my Video monthly report news, tips and inspiration?
Check my Youtube Playlist "Crochet with Love - inspiration, giveaways and fun! Enjoy!"
What's Next?
Pin this post: Save this tutorial to your Pinterest boards so that you can come back to it later.
Leave a comment: I love to hear your feedback. Tell me in the comments below!
Share on Instagram and Facebook: When you make this project, share it on social media and tag me @sonanebeska. I love to see what you make!
MORE PATTERNS?
You know me, I love making PONCHOS and CARDIGANS.
If you do as well, you may would love to try these patterns as well:
Explore More Crochet Patterns
If you love to crochet as much as I do, I think you'll love these other free crochet patterns for HATS AND BEANIES AND EARWARMERS ❤️
♥♥♥
Have fun and let me know what you make. I would love to know how your project turns out.
Please don't forget to like and I really appreciate your comments.
If the pattern did not make sense to you, please don't hesitate to contact me, I am happy to help :)
If you like this pattern, please follow and share my projects on social networks as a THANK YOU and to help me to create new projects and patterns for you.
Thank you very much once again for your visit and see you soon!
♥♥♥