---
Spring is right around the corner
2022-03-10
Hi My Crochet Friends! Spring is right around the corner!
I love sharing crochet patterns for different themes and holidays.
Spring is right around the corner and Easter on its way, I thought I would round up some super cute Crochet Patterns for you to get your hook into.
This is my List of HAPPY EASTER HOLIDAY crochet patterns I prepared for you – they are available for free and they comes with video tutorials as well.
Easter patterns are fun to crochet. It's amazing to work with the bright, pastel colors of the season, and Easter-themed animals are so cute. In addition to favorite holiday characters, you can craft gifts for filling Easter baskets and even crochet the baskets themselves.
There is something for everyone. I've included cute little amigurumi EASTER CHICKENS and RABBITS egg cover, also some BASKETS and easy and quick BIRDIES and more!
It's the perfect time to whip something up! Let's get started now to have them ready in time for the Spring time!
VIDEO TUTORIALS
You can find the step-by-step video tutorials which will help you along if you prefer to watch video instruction rather than using a written pattern. Don't forget to subscribe if you like me videos, it's FREE!
A huge thanks to everyone who want to support my blog and download PDF paid pattern. Thank you very much, I really appreciate it and it helps me create more new video tutorials and patterns for you. Love you!
If you pin my patterns to your Favorites and share it on social media as a link, I will be able to share a lot more free crochet patterns for you all.

Stay in touch at Facebook, Instagram and Pinterest.
Let's start or PIN this idea to your Pinterest boards for later.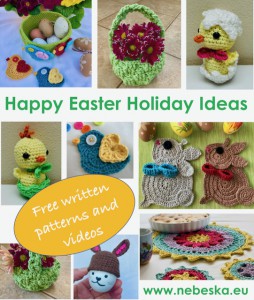 These patterns are made for beginners - only a basic skill level is required to make it. If you don't understand any of my instructions, don't worry I am here for you - enter the comments at the end of this post.
They're SO easy and quick to make. So whether you're a beginner or expert hooker, these crochet hearts patterns are the perfect pattern for you to show your love.
You can decorate, gift, or enjoy these ideas just for yourself.
Take a look through this list of crochet patterns to find some inspiration!
Easter Bunny decoration
Easter is on its way, I am ready to welcome this wonderful holiday and I thought I would come with some cute Easter Crochet Patterns for you! I started with these adorable Crochet Easter Bunnies. I hope you love it as much as I do!
A cute crochet bunny will put a smile on anyone's face and making one is a great way to pass get a jump start on the holiday. So if you're looking for something very simple and quick, I would suggest making these cute little Bunnies ornaments. They are perfect and I think you'll be happy with the result.
Spring Birdie Basket
This amazing Easter Spring Basket will put your home in the spirit of the season. These cute crochet birdies will put a smile on anyone's face and making one is a great way to pass get a jump start on the holiday.
This pattern is a super easy birdie and basket, it is strung on a basic crochet stitches only. The same pattern could be used to make a birdie ornament for other projects.
I can't even tell you how happy I am to be sharing this pattern with you!
Cute Little Easter Chicks Amigurumi
CUTE LITTLE EASTER CHICKS are among the cutest of all Easter symbols. Kids love BABY EASTER CHICKS and we, adults do as well, right?
You can use CROCHET CUTE LITTLE EASTER CHICKS as gifts as well as for Easter party decor. Have fun making these cuties.
Are you looking for a classic cute crochet EASTER CHICK pattern that you can use for doll-making or decor? This is a great option. It is an easy and free pattern for a really simple EASTER CHIP CHIP CHICK that has basic wings, and a cute little nose and button eyes.
The CROCHET EASTER CHIP CHIP CHICK is the perfect project for beginners crocheting and I am excited to share with you the EASTER CHIC pattern.
Crochet Easter Basket
Make sure your little ones are well equipped for the Easter party with a handmade, crochet basket. This Easter basket crochet pattern is sure to have just the perfect basket for your little egg hunter! The pattern uses easy stitches, such as the front post and back post double crochets, resulting in a basket that's perfect for collecting eggs or holding Easter gifts.
I love to crochet baskets for holidays and to give them as gifts. This cute little basket could be perfect for Easter Holiday.
Fill up your baskets with sweet treats for your loved ones and then keep the basket as an attractive and practical storage solution.
You can create baskets of many versions and various sizes.

Macreme cotton yarn is one of the best choices for making crochet baskets of any size. The thickness of the yarn makes that the baskets can easily stand up straight without caving in on the sides.

THE FREE WRITTEN PATTERN IS COMING SOON!
Crochet EASY Puff Flower
One of my favorite things to make are crochet flowers. I love to use crochet flowers as accessories. These Puff Flowers are so incredibly easy to crochet, so I'd like to share this pattern with you today.
And moreover - small projects like these are great for using up scrap yarn!
I also think these would be really cute on a girls hat, berets or even on a girls' shirt or coat. Any other ideas from you?
This free crochet puff flower pattern is surprisingly easy and it makes and adorable piece for your wardrobe.
Table Placemat and coasters
It's perfect for adding colour and liveliness to your house. The perfect way to add detail and fun to your dining room. The cups and pots sitting on top of this will look so much more pretty and pleasing to the eye. These crochet placemat patterns are so much fun to make!
These Table Placemats and coasters are so fast to make, all you need is a free evening to make them for your dining table. You will need to know a few basic stitches like single, double, and half double crochet. You will also need to know a few of some complicated stitches like treble and 4 double cluster crochet. This project is started by making a magic ring.
Easter Bunny Egg Cover
The Easter bunny is perfect for Easter. Any child would be thrilled to help you to create this lovable crochet Easter bunnies. Those Easter Egg Covers are cozy with nice ears bring out the essence of all that is cute about this holiday's favorite animal. Gift it for Easter, and the child will enjoy to make the face for this cute Bunny.
These Cute Easter eggs covers are made from a super simple and easy free pattern.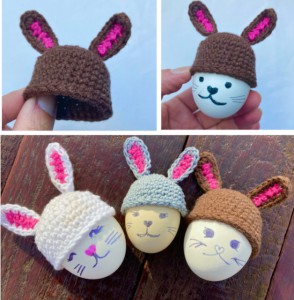 Easter Egg WRAP Cover
This is a super easy and quick Easter Egg Wrap Cover - designed for beginners, with a simple design with a classic buttoned up look. Unlatch the button and reveal the Easter Egg inside!
And there is a great idea for using the Egg Wrap after Easter Holiday as well - keep your hardboiled eggs warm for your breakfast on the plate.
THE FREE WRITTEN PATTERN IS COMING SOON!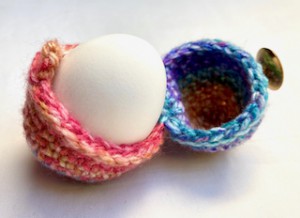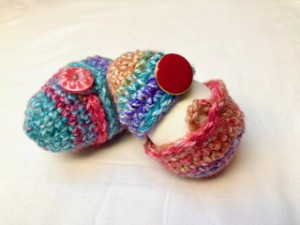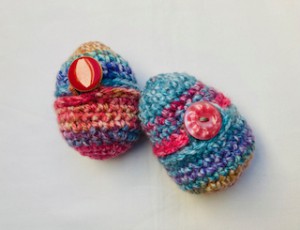 ♥♥♥
Have fun and let me know what you make. I would love to know how your project turns out.
Please don't forget to like and I really appreciate your comments.
If the pattern did not make sense to you, please don't hesitate to contact me, I am happy to help :)
If you like this pattern, please follow and share my projects on social networks as a THANK YOU and to help me to create new projects and patterns for you.
Thank you very much once again for your visit and see you soon!
♥♥♥