---
Crochet Warm Ribbed Hat for Beginners
2022-12-06
I love wearing hats. All crochet hats just make the adorable head warmers, this is an amazing Ribbed HAT pattern which is textured and stretchy and making you look entirely great!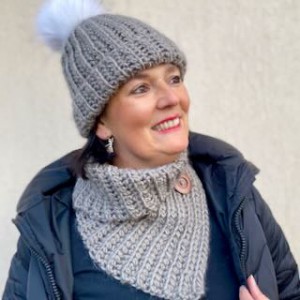 Check out here my crochet Roving Ribbed HAT that is perfect to wear over the head.
This Ribbed Hat is perfect for winter and cold time time. I put a pom-pom on the top of the Hat made a beautiful accessory.
I am happy to show you how to crochet this perfect Roving Ribbed Hat that really fits!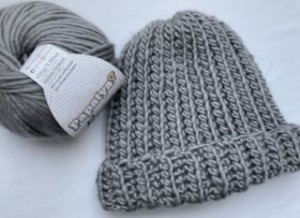 I love this wonderful acrylic-wool yarn with neutral color and high quality, with the right thickness to show off an amazing ribbed texture.

The texture on this Ribbed Hat is created using half double crochets slip stitches.
It is the perfect crochet beanie hat for all crocheters - with very simple construction - great project for very beginners.
Make this Ribbed hat to your winter hat collection!
I love making this style of crochet unisex hat for everyone - hats make great gifts for the whole family.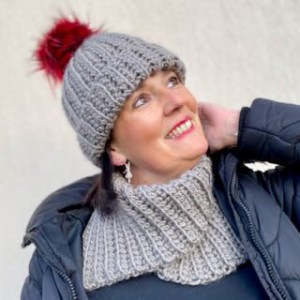 It's made with a very stretchy ribbing stitch pattern for a nice fit.
The pattern is available here below for free. It comes with a video guide as well.
Let's get started to make this perfect pattern!
VIDEO TUTORIAL
You can find the step-by-step video tutorials below which will help you along if you prefer to watch video instruction rather than using a written pattern. Don't forget to subscribe if you like me videos, it's FREE!
A huge thanks to everyone who want to support my blog and download PDF paid pattern. Thank you very much, I really appreciate it and it helps me create more new video tutorials and patterns for you. Love you!
If you pin my patterns to your Favorites and share it on social media as a link, I will be able to share a lot more free crochet patterns for you all.

Stay in touch at Facebook, Instagram and Pinterest.
Let's start or PIN this idea to your Pinterest boards for later.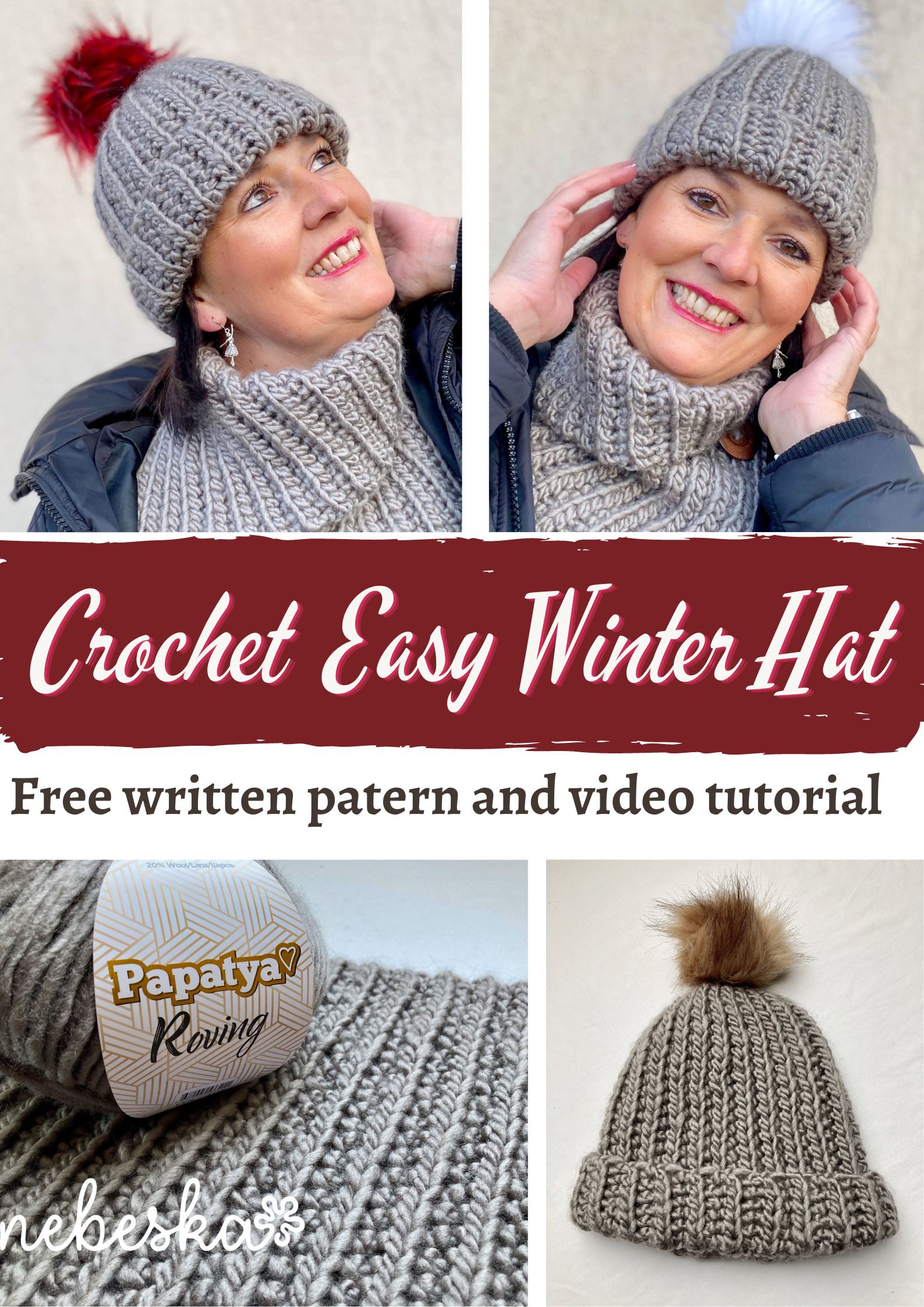 Do you love the HAT crocheting? Hats are always good gift ideas. You would may like to try also these patterns: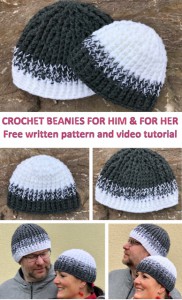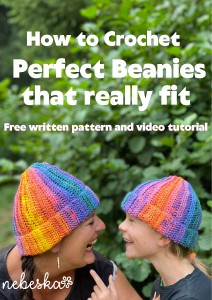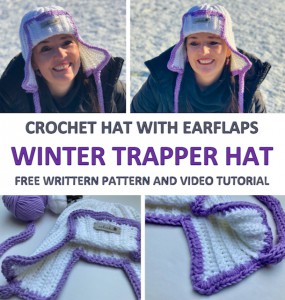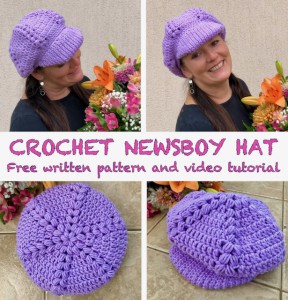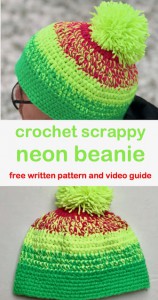 Or maybe would love to try some hats for kids:
This pattern is made for beginners and with my video tutorials everyone will manage to crochet this amazing pattern. If you don't understand any of my instructions, don't worry I am here for you - enter the comments at the end of this post.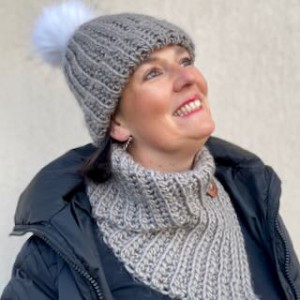 CROCHET WARM RIBBED HAT DIRECTIONS:
This warm Ribbed Hat is a super easy crochet project.
You'll love how quick and easy this crochet Ribbed Hat is to make.
No complicated stitch pattern - just slip stitches and half double crochet slip stitches.
So let me now get started and tell you what you will need in order to crochet this Cosy and Warm Ribbed Hat.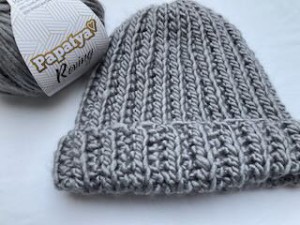 The pattern was made with yarn: Papatya Roving.

https://www.vlnika.cz/z15375-prize-papatya-roving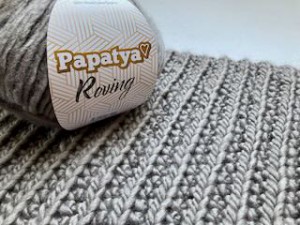 PAPATYA ROVING: ​Wool 20 % + Acrylic 80 %, 100m/100g – 1 skein
​This yarn made from wool-acrylic, so it's so soft, really affordable, and very easy to care for. Plus, this yarn comes in more than 20 gorgeous colors.
1 ball is perfect for 1 Adult Women Ribbed Hat
For this pattern you will need 7,0 mm crochet hook.
Scissors and tapestry needle and I would recommend you to use a tape measure.
CROCHET WARM RIBBED HAT SIZE:
Size: bellow there is a pattern for Adult woman size, the head measurement 22 inch / 56 cm, this one fits perfectly to me and also my teenage daughter.
The crochet RIBBED HAT can easily be adapted to a smaller size or bigger size.
I'll show you how to make sizes that really fit, from toddlers to adult.
Difficulty Level: Level 1 – Easy, for Beginners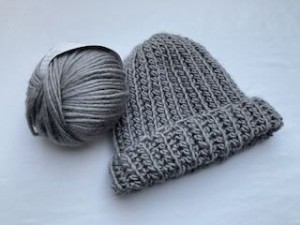 US crochet term:
SlSt – slip stitch
CH/s – chain/s
SC - single crochet
HDC - half double crochet
SK - skip
T - turn
ST/s - stitch(es)
REP - repeat
YO – yarn over
Special stitches used:
BLO = BACK LOOP ONLY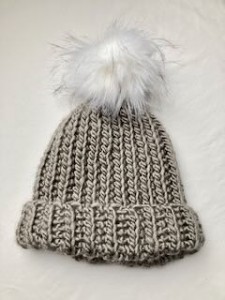 CROCHET WARM RIBBED HAT PATTERN NOTES
1) This pattern below is for adult women size and can be easily adapted to a smaller size or bigger size just by reducing or increasing the numbers of stitches and as well as less or more numbers of rows. Remember that when making bigger beanie size, you will need more yarn.
Adult Women Size:
Head measurement: 22 inch / 56 cm
Hat Length: 11,5 inch / 29 cm
Hat circumference is 19.5 inch / 50 cm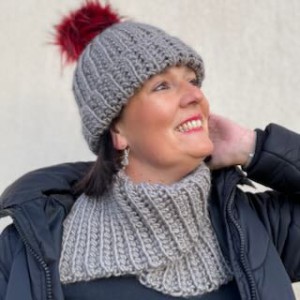 2) This Hat is crocheted in rows, back and forth, using half double crochet slip stitches and slip stitches, working in back loops only.
So, if you can crochet back and forth in rows, you can make this simple crochet hat pattern!
3) This Hat is worked up as a flat rectangle.
4) To finish the Hat, you'll join together the shorter sides to form a tube. After that, gather the opening - one end of the tube is gathered to create the Hat shape.
3) A Ch 1 at beg of the row DOESN'T count as stitch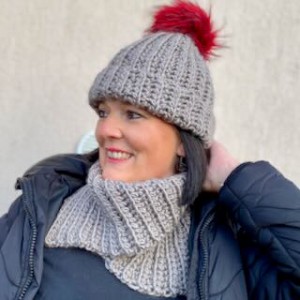 SIZE
The pattern is easy to adjust to fit different head sizes from Toddler to Adult sizes
I'll show you a hat size chart and a simple formula to follow for a perfect fit each and every time.
​Crochet Hat Size Chart
Wondering what size hat to make? To correctly size a crochet beanie, you'll want to make a Hat that's just a bit smaller than your head size. This way, when the hat stretches, it will fit your head perfectly.
To find your perfect size, use a tape measure to measure the widest part of your head. This will give you your head circumference measurement.
Then, subtract about 2-3 inches from this to get the finished hat size measurement. Since this stitch pattern is very stretchy, I find that 3 inches of negative ease gives me a nice fit.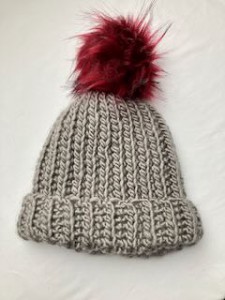 My example
For example, my head measurement is 22 inch, which puts me in the Adult Medium size. After I subtract 2.5 inches of negative ease, I know I want a make the circumference of the hat 19.5 inch.
To make my beanie, I crocheted as many rows as it took to reach a finished hat size of 19.5 inch, which turned out to be 45 rows plus 1 seaming row.
To make a well-fitting hat, crochet as many chains as you need to reach the appropriate hat length measurement. Add 2-3 inches to this measurement to add a folded brim.
And then, crochet as many rows as you need to reach the appropriate hat circumference measurement.
*Measurements are taken from the garment lying flat, before the yarn has stretched out/dropped.
See Chart for more sizes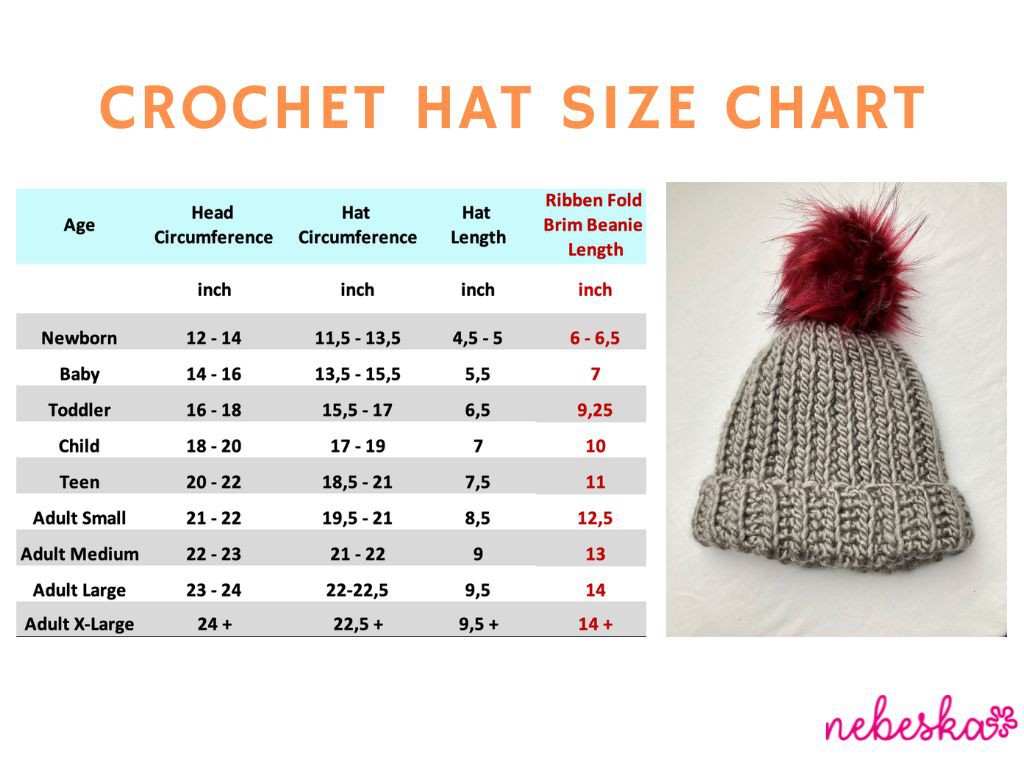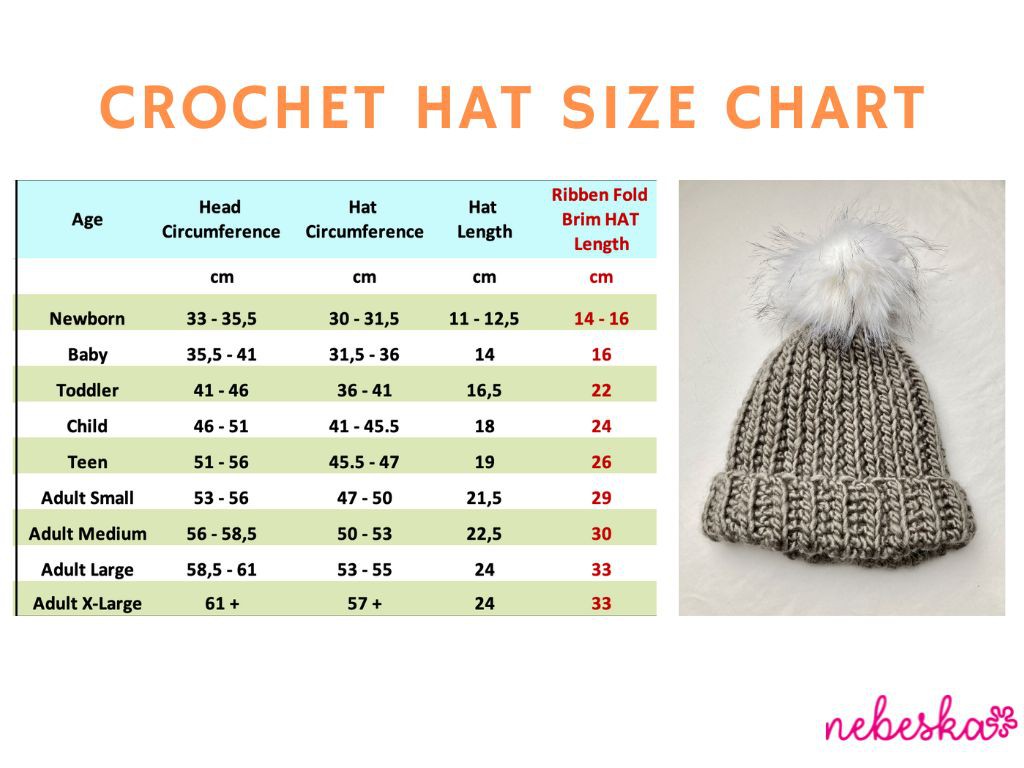 HOW TO CROCHET RIBBED HAT / WOMAN MEDIUM SIZE
​Crochet Ribbing Stitch.
The Beanie is made with a half-double crochet ribbing stitch. Making the half-double slip stitches through the back loop only makes a very stretchy crochet ribbing that's perfect for hats.
There are added a few slip stitches near the crown of the hat, so the top is narrower than the center of the hat. This will come in handy when it's time to gather the opening and finish the hat.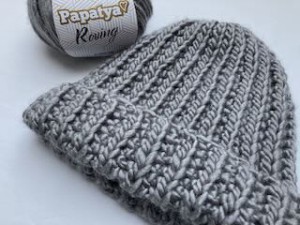 WRITTEN PATTERN - ADULT WOMAN MEDIUM SIZE:
I would recommend you to take your measurement at first.
I took my measurements. I want a fold brim beanie with a finished length of 29 cm / 11.5 inch and a circumference of 50 cm / 19.5 inch.
Foundation chain: 29 cm / 11.5 inch
Head Circumference: 56 cm / 22 inch
Beanie Circumference: 50 cm / 19.5 inch
Make a slip knot and chain foundation chain: 30 chains
R1: ch1, 1 sl st in the second chain from your hook, 1 hdc sl st in next 25 st, 1 sl st in next 5 ch. Turn (30 st)
R2: ch1, 1 sl st in next 5 st, BLO, 1 hdc sl st in next 25 st, BLO, turn (30 st)
R3: ch1, 1 hdc sl st in next 25 st, BLO, 1 sl st in next 5 st, BLO turn (30 st)
R4 - R44: Repeat rows R2 and R3, until you reach your measurement.
For my Hat, adult women medium size, I crocheted 45 rows.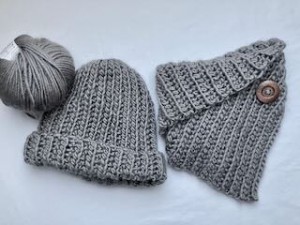 Note: Take this measurement along the long edge of half-double crochet stitches, not the long edge with the slip stitches.
A fabric measuring tape is useful here, since it's more flexible than a ruler.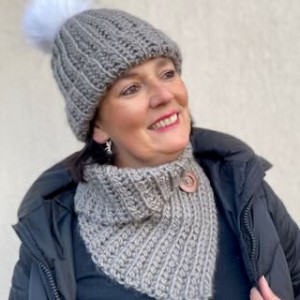 ALL SIZES FINISHING INSTRUCTIONS:
Join the sides.
Now that it's time to join the hat together.
Join the sides together with a simple slip stitch seam. Turn the hat right sides together. Crochet the wrong sides with a row of slip stitches (sl st) made through both back loops of stitches on both edges.
Gather the top of the hat.
Pull yarn through the last loop and trim a long yarn tail. Use the yarn tail and a darning needle to make long running stitches along the top edge of the hat.
Pull the yarn tail to gather the top edge of the beanie, and pull it closed. You can knot the yarn tail to secure it. Cut the yarn, weave in the ends.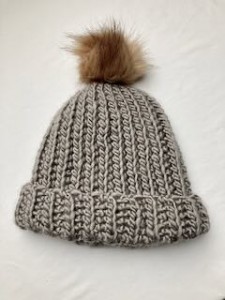 Lay your Ribbed Hat the RIGHT SIDE out and smooth down.
You are all done with your amazing WARM CROCHET RIBBED HAT!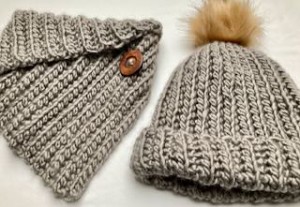 MORE PATTERNS?
I would recommend you to match your CROCHET RIBBEN HAT with this beautiful COWL / NECKWARMER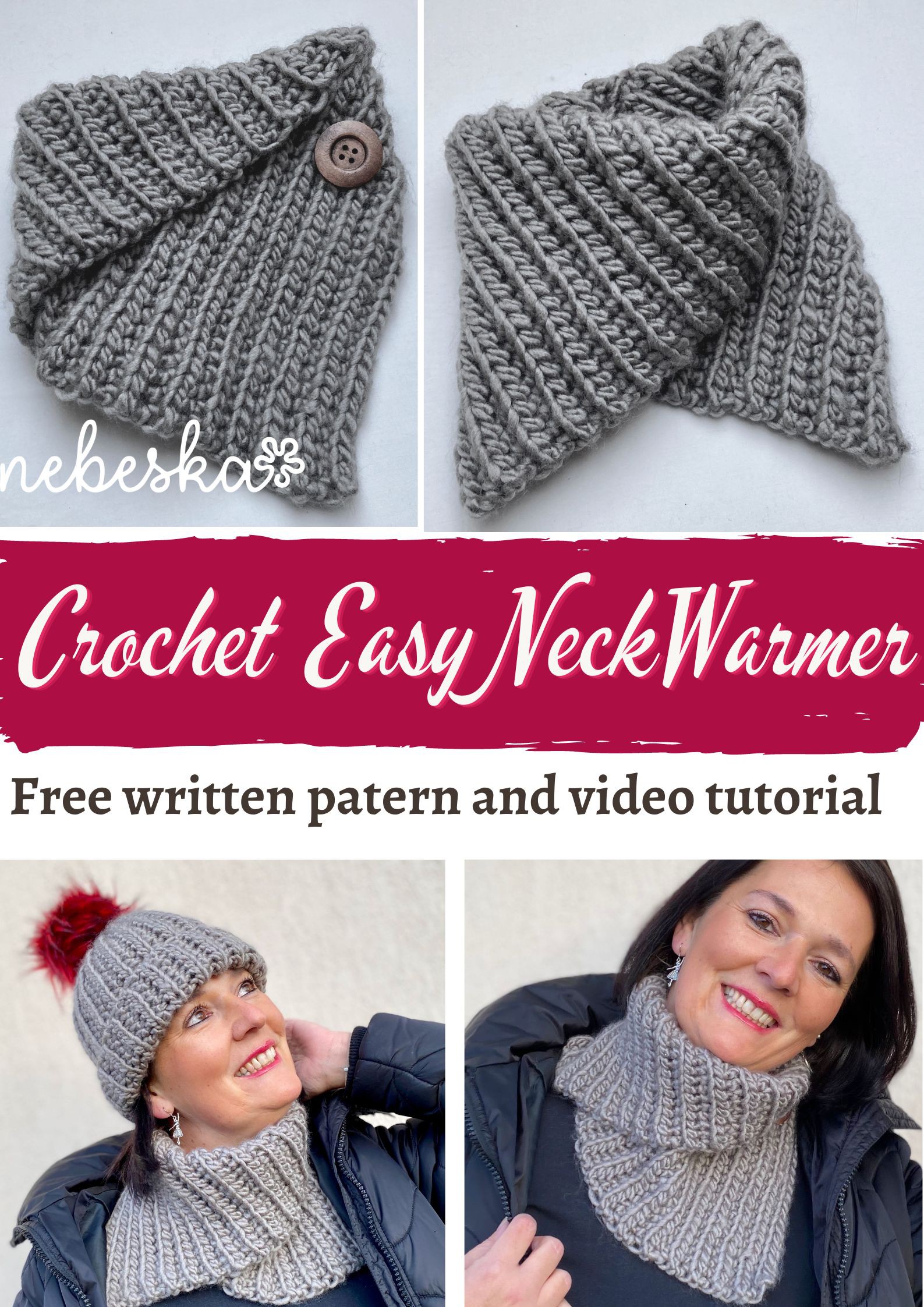 OR WITH THIS LOVELY COCOOC SHRUG CARDIGAN: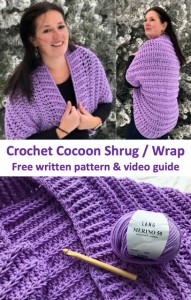 ♥♥♥
Have fun and let me know what you make. I would love to know how your project turns out.
Please don't forget to like and I really appreciate your comments.
If the pattern did not make sense to you, please don't hesitate to contact me, I am happy to help :)
If you like this pattern, please follow and share my projects on social networks as a THANK YOU and to help me to create new projects and patterns for you.
Thank you very much once again for your visit and see you soon!
♥♥♥