---
Archive
2023-06-03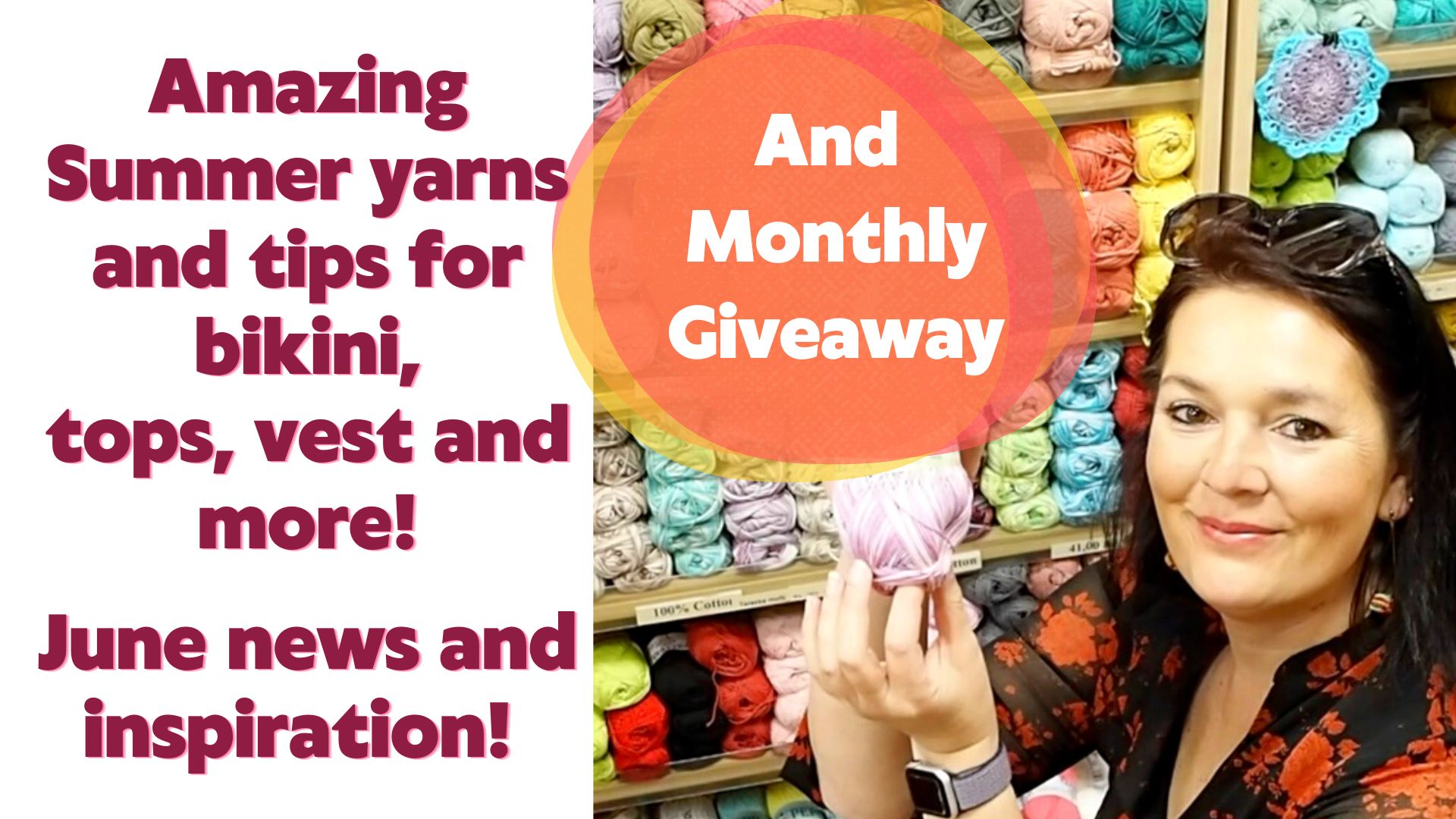 HELLO MY CROCHET FRIENDS! Just like every month, I am here again in June with new inspiration from a visit to my favorite shop Vlnika and also with another interesting topic - this time I want to focus on summer yarns and colorful yarns.
I also know that you would be interested in how to crochet a bikini top that fits you, so I will cover this topic in the video report as well.
And ONE MORE GREAT NEWS! The summer temperatures have brought summer colors to my temperature snake, so I have to show off how my handsome guy is already coloring.
2023-06-06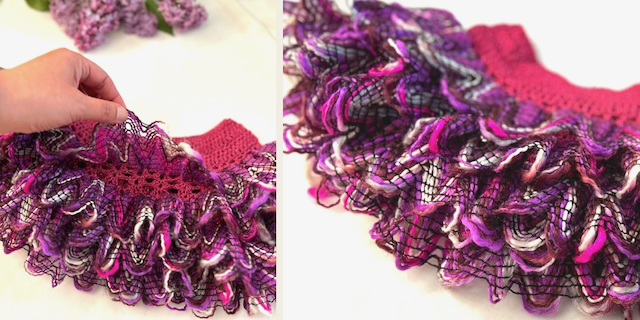 The Ruffle Yarn Skirt is so cute skirt for little girls, little happy balet dancers - perfect for spring, summer time or in fall with leggings.
The RUFFLE YARN LACY SKIRT is an amazing and really fun outfit.
You can easily customise the length of this skirt. The pattern is easy, the construction is simple and can be completed by a very beginner.
The pattern is for 2 years old girl size. In the written pattern bellow you will find the instructions on increasing and decreasing the size
2023-06-16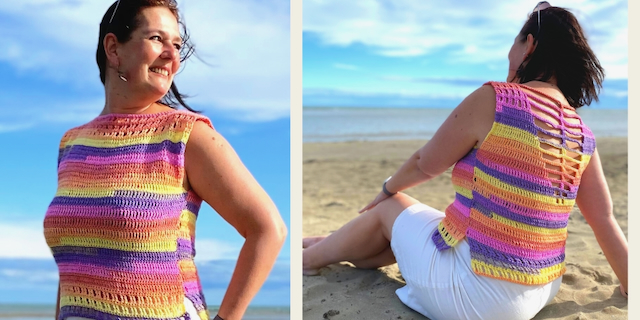 I believe that this beautiful top will decorate your wardrobe not only in the summer, but it will stand out beautifully under a jacket as well, where it will liven up an elegant suit. I hope you will enjoy crocheting and wearing this simple top!
This crocheted top is made from the wonderful PAPATYA COTONISH yarn - a very soft premium acrylic yarn with many cheerful colors.
2023-06-21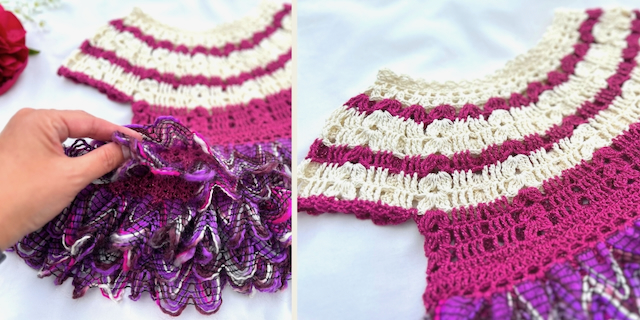 Last week I showed you the tutorial How to crochet cute girl's skirt with ruffles - a beautiful fluffy ballet skirt that I hope you and your little dancers and ballerinas enjoyed!
And as soon as I finished crocheting and tried it on, I got a request to make a dress out of the skirt.
Basically, it wasn't a problem, it was quite easy to crochet the yoke and body onto the dresses and the skirt, which I already had ready, I crocheted to the top.
I used the rest of the Lotus Lux yarn and completed the top with the pleasant Alize Miss yarn.
You now have 2 patterns for 3 things - you can crochet a top or tunic, a skirt or even a whole dress!
2023-06-26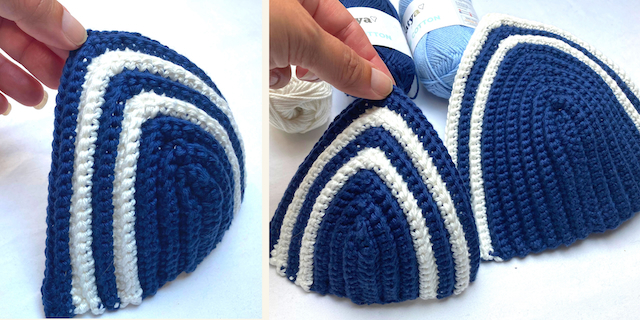 As you know me, I love the sea, beaches and nautical style! And that's why today I chose this navy style with a combination of dark blue, light blue and white colors for a crocheted bikini cups for a summer top.
In the instructions in the video tutorial I will show you how to measure yourself and calculate the size. How to easily shape cups according to your shapes so that they hold their shape nicely even without filler.
2023-06-30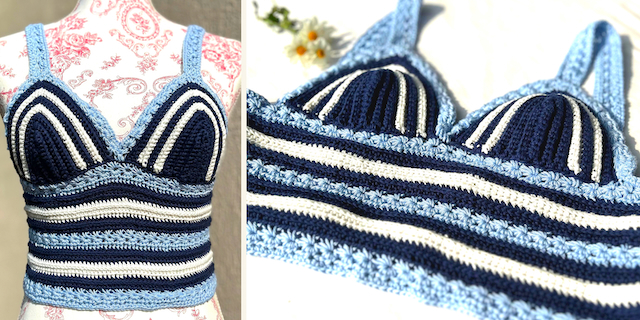 Hello my dear friends! Hope you have a nice summer day!
This article follows on from the article about crocheting classic shaped cups for a summer top or tank top.
Navy style belongs to summer and that is why I chose colors in combination with blue and white. I chose a beautiful romantic star stitch for the light blue stripes, which softened the top beautifully.

In the instructions, I will show you how to crochet the cups, finish the bottom part and crochet the stripes. The stripes are classic, not for tying. It is of course up to you whether you sew the stripes or perhaps tie them around the neck, as suits you. And so that the top sits nicely on the body, it has a button fastening at the back. You can crochet the top longer or shorter, or just as a bikini top.
Folders found
No folders found