---
Gorgeous Valentine's Day Crochet Free Patterns
2022-01-13
Gorgeous Valentine's Day Crochet Free Patterns & Video Tutorials
Hi My Crochet Friends!
I love sharing crochet patterns for different themes and holidays. This is my List of Valentine's Day crochet patterns I prepared for you – they are available for free and they comes with video tutorials as well.
There is something for everyone. I've included hats and mittens ideas, cute little amigurumy, bags and pillow cover and more!
It's the perfect time to whip something up! Let's get started now to have them ready in time for the day of love!
VIDEO TUTORIALS
You can find the step-by-step video tutorials which will help you along if you prefer to watch video instruction rather than using a written pattern. Don't forget to subscribe if you like me videos, it's FREE!
A huge thanks to everyone who want to support my blog and download PDF paid pattern. Thank you very much, I really appreciate it and it helps me create more new video tutorials and patterns for you. Love you!
If you pin my patterns to your Favorites and share it on social media as a link, I will be able to share a lot more free crochet patterns for you all.

Stay in touch at Facebook, Instagram and Pinterest.
Let's start or PIN this idea to your Pinterest boards for later.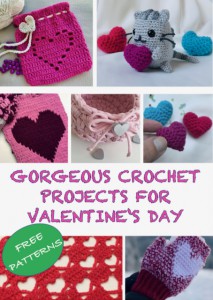 These patterns are made for beginners - only a basic skill level is required to make it. If you don't understand any of my instructions, don't worry I am here for you - enter the comments at the end of this post.
These are my favorite Crochet Projects to Make for Valentine's Day
I'm sharing my favorite crochet heart patterns that you can make for your friends, families and loved ones. You can make Hearts for Valentine's Day, or to show your love any day of the year.
They're SO easy and quick to make. So whether you're a beginner or expert hooker, these crochet hearts patterns are the perfect pattern for you to show your love.
You can decorate, gift, or enjoy these ideas just for yourself.
1) GIFT BAG
I adore this drawstring Gift bag! Imagine filling it full of chocolate hearts or a little gift ideal for anyone on your list! A perfect beginner crochet pattern.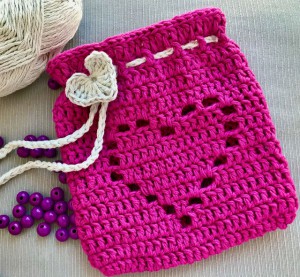 2) CROCHET BASKETS
I love to crochet baskets for holidays and to give them as gifts. You can create baskets of many versions and various sizes. Fill up your baskets with sweet treats for Valentine's Day and then keep the basket as an attractive and practical storage solution.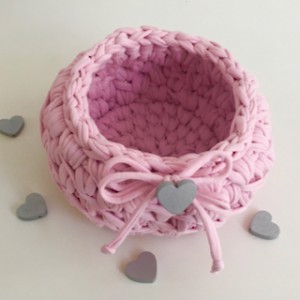 Enjoy this free video tutorial and make cute little Basket with Heart, the written is coming soon!
Or try this popular waistcoat stitch basket as well: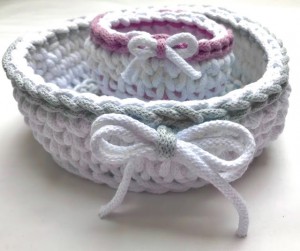 3) CUTE LITLE HEART SQUISHIES
I love cute little thing – I love these Heart Squieshies! I made them for decor, they work great for Valentine's Day.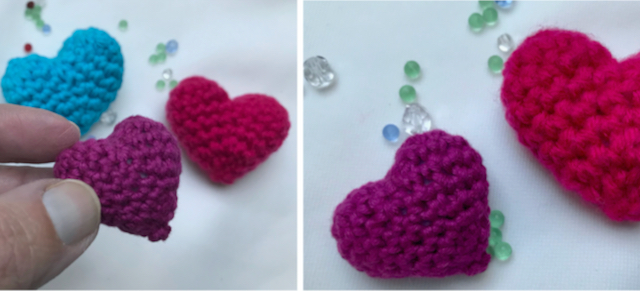 4) PILLOW COVER
An ideal pillow cover, this is a wonderful choice for year-round, but I love it especially on Valentine's day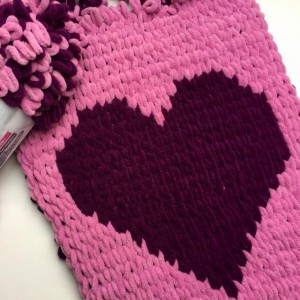 5) BEANIES FOR HIM AND FOR HER - FOR THOSE IN LOVE
My husband loves Beanies. I created Beanie for him and one for me to show we are together and still in love. This pattern is adorable, unisex, and perfect for wearing throughout the season of love.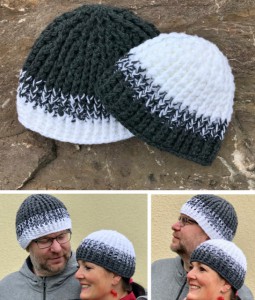 6) CROCHET REALLY WARM MITTENS WITH HEART
Valentine's Day comes right in the middle of the coldest weather, so these really warm mittens aren't just perfect but very useful for those you love. A perfect beginner crochet pattern.
7) CUTE LITTLE CAT IN LOVE
You know me, I love Cats and this little pattern is definitely going to be a hit. This Amigurumi Cat takes a bit more work than some but it is stunning once complete.
Enjoy this free video tutorial and make cute little cat in love, the written is coming soon!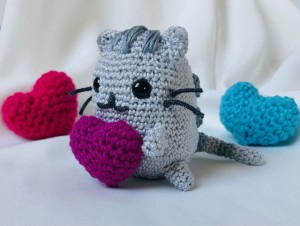 8) SWEETHEART SMALL PONCHO
Are you a poncho lover? I personally love ponchos, they are an extremely versatile clothing item, for they can be worn in almost any season and for all kinds of occasions. This poncho is perfect for wearing for special events, for romantic dinners and so. This Poncho is absolutely fabulous and outstanding and will complete your outfits.
♥♥♥
Have fun and let me know what you make. I would love to know how your project turns out.
Please don't forget to like and I really appreciate your comments.
If the pattern did not make sense to you, please don't hesitate to contact me, I am happy to help :)
If you like this pattern, please follow and share my projects on social networks as a THANK YOU and to help me to create new projects and patterns for you.
Thank you very much once again for your visit and see you soon!
♥♥♥